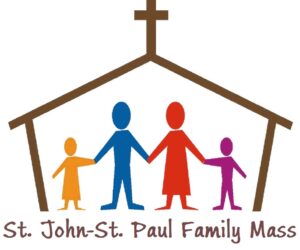 Inspired by the Spirit-filled sense of vibrancy and joy at the Sunday 5pm Youth Mass, and the way it has reinvigorated our Confirmation and Youth Ministry programs, we have established a Collaborative Sunday 9am Family Mass – a family-centered liturgy that serves as the centerpiece of our Religious Education program for children in Grades 1-5, with the children central to and actively involved in all aspects of the Mass.
This Mass rotates between St. John the Evangelist Church and St. Paul Church on the same schedule as the Sunday 5pm Youth Mass (on the 1st, 3rd and 5th Sundays of the month the Mass is at St. John Church; on the 2nd and 4th Sunday of the month the Mass is at St. Paul Church.)
The Sunday 9:00am Family Mass is a wonderful way for families young and old to participate in prayer and worship together.
The Family Mass Program includes:
Music that appeals to children with upbeat, child-friendly hymns.
A Family Mass Music group of children and adults blending voice and instruments.
Homilies meaningful to both children and adults.
Opportunities for children of all ages to serve as greeters, ushers, and gift bearers, and for older children to assist the priest as altar servers.
Designated liturgies that support the faith development of the students in our Religious Education Program for Grades 1-5, our Saint John School students, and our young pre-school children through their active participation.
Donuts and Coffee after Mass – in Powers Hall at St. John and in the Parish Hall at St. Paul
Family Mass Music
Children and adults blend voice and instruments to praise the Lord and enrich our Sunday 9:00am Family Mass with upbeat, child-friendly, hand-clapping hymns. We rehearse each Sunday Morning at 8:30am in the church to prepare for that day's 9:00am Mass (no need to commit to every Sunday), and we also prepare special liturgies for Grade Level Masses, Advent, Christmas, Lent, Palm Sunday and Easter. All ages, Grade 1 and older, are welcome! We are always seeking new singers and instrumentalists to join our ranks.
For information please contact Maria Wardwell at maria.wardwell@stjohnwellesley.org.