WORLD YOUTH DAY LISBON 2023
The St. John-St. Paul Collaborative is sending 15 pilgrims to World Youth Day Lisbon 2023!
Learn more about World Youth Day –
and how you can help make this amazing experience possible!
What is World Youth Day?
In 1986, Pope John Paul II initiated World Youth Day (WYD), a week-long gathering of young people from all over the world with the Pope. It is also a pilgrimage, a celebration of youth, an expression of the universal Church and an intense moment of evangelization for the youth world. Although its Catholic identity is clearly evident, WYD opens its doors to everyone, no matter how close to or distant from the Church they are.
The celebration takes place every 2-3 years in a different country and attracts millions of people. It is an opportunity for young people from around the world to come together with pilgrims from every continent to pray, worship, and celebrate the Catholic faith. The highlights are the celebrations for which the Pope is present, such as the welcoming and opening ceremony, the Way of the Cross, the vigil and, on the last day, the outdoor closing Mass with the Holy Father.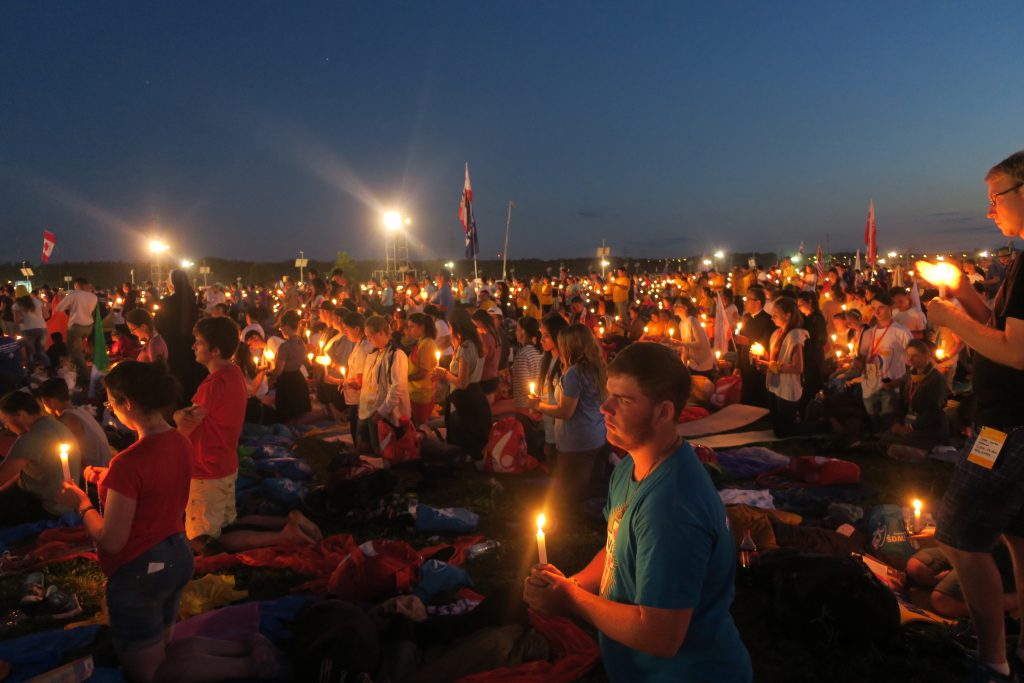 Our parishes have a long history of sending young pilgrims to World Youth Day.  Many of the young people from our parishes who have attended World Youth Day in the past have described it as a life-changing event in their journey of faith (please visit our World Youth Day 2016 Blog for first-person accounts and photos from the trip!)
World Youth Day Lisbon 2023
WYD Lisbon 2023 will take place this summer from August 1-6. The pilgrimage begins on the evening of July 28 when we fly out of Logan with the other groups from the Archdiocese of Boston. The first two days will take us to Santarem, the site of a Eucharistic Miracle in the year 1247, and to the Shrine of Fatima, the site of numerous apparitions of Our Lady to three shepherd children in 1917, where we will celebrate Mass with Cardinal Sean.
We return to Lisbon on August 1 for the opening of World Youth Day 2023, which will culminate on August 6 with a special outdoor Mass with Pope Francis and millions of pilgrims from around the world.
Please Help Make This Pilgrimage Possible!
The expense of participating in this week-long pilgrimage is significant – the total cost is now projected to be $4,200 per person – so we are asking for your help to make this transformative journey possible for our young people.
Please consider sponsoring one (or more!) of our pilgrims by making a financial donation in their honor and lending your spiritual support in the form of prayer.
You can choose the pilgrim(s) you would like to sponsor, or you can ask us to direct your sponsorship to where it's needed most.
Once we received your sponsorship we will send you a photo and biography of your pilgrim(s) so you can keep them in your prayers, and your pilgrim(s) will be keeping you in their prayers as they prepare for the trip and while they are in Lisbon. After the trip, you will be invited to a special evening celebration during which they will share their experiences and gratitude.
Your financial support will greatly reduce the individual cost of the trip, and your prayers will transform an incredible experience into an encounter with our Lord Jesus Christ and the impactful presence of His Church.
Meet Our Pilgrims!
Click on a name below to learn more about each pilgrim
and to support them with your donations and prayers.

John Brosnahan
Sophomore at Wellesley High School
Abigail Coleman
Sophomore at Wellesley High School
Agnese DelVecchio
Sophomore at Wellesley High School
Oliver Kilgore
Junior at Wellesley High School
Grace LeVasseur
Sophomore at The Ursuline School (NY)
John McCurley
Sophomore at Wellesley High School
Eva Meraw
Sophomore at Wellesley High School
Mia Songer
Sophomore at Newton South High School
Andrea Villalba
Freshman at Sacred Heart University (Fairfield, CT)
Vanessa Villalba
Junior at Saint Joseph Prep (Boston, MA)
Edward Voldins
Sophomore at Wellesley High School


CHAPERONES

Luke DelVecchio
Youth Minister

James Hastings
Youth Minister

Kelly Winter Meraw
Director of Pastoral Care – St. John-St. Paul Collaborative
Director of Music for St. John the Evangelist Parish

Patricia Amend Bombara
Director of IT and Communications