POWIR Program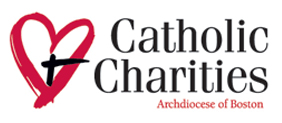 About the POWIR Program
The St. John-St. Paul Collaborative Service Commission, in partnership with dedicated parishioners and staff, has established a POWIR program to assist Catholic Charities Boston with immigrant and refugee resettlement.  POWIR ("Parishes Organized to Welcome Immigrants and Refugees") is a program of Catholic Charities Boston which engages local churches to recruit and utilize volunteers to mentor and provide other needed support to newly-arrived refugees. The program places a special focus on building parish partnerships in which a parish sponsors a refugee family for a designated period of time. This connection helps refugees to feel a true sense of welcome and build social capital, fostering long-term integration.
October 2019 – Two Families Have Arrived and Need Our Help
In late September, we received news that Catholic Charities Boston had just welcomed three refugee families to the Boston area.  The St. Ignatius Parish (Newton) POWIR program has secured housing for all three families in the same building in Boston and has begun to furnish their apartments. The St. John-St. Paul Collaborative POWIR program will be assisting with the post-arrival needs of two of these families, one from the Democratic Republic of Congo and one from Honduras, who are sharing an apartment. We need your help to facilitate a smooth integration into their new home. Please consider prayerfully supporting these families with your time and treasure.
Please visit our SignUp Genius page for a list of the families' needs, including personal items (such as winter clothing and shoes), household items (paper goods and other items not covered by SNAP or other programs) and gifts of time and treasure (such as assistance with grocery shopping, dinner outings, weekend outings to explore the surrounding area, and simple morning walks in the neighborhood.)  Please sign up to help in any way that you able. If you are able to commit your time to the families, we will send a FAQ Email  with details regarding "introducing yourself". (The Congolese family speaks French and the Honduran family Spanish, but these language skills aren't required!)
Financial contributions are also needed to provide assistance with rent, utilities, and other material needs as these families move to self-sufficiency over the next six months. Financial donations can be submitted by check (made out to your parish with POWIR noted in the memo) in the weekly collection, at either parish office, or online.
Support Our Refugee Families
Click Here to Sign Up for Opportunities to Help