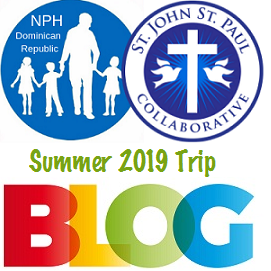 On August 15, 2019, a group of our high school students, along with Fr. Jim, our Youth Ministry team, and a representative from NPH USA, travelled to the NPH home in the Dominican Republic for a week-long service and immersion trip. This trip provided a firsthand experience of how NPH USA transforms the lives of children!
We had the unique opportunity to stay at the NPH home with the children, in a newly constructed visitor's house. This allowed us to immerse ourselves in NPH life with the children and their culture.
While the children were in school, we helped with the daily chores around the property, including working in the gardens and on the farm, caring for the special needs children, working in the kitchen and carpentry shop, and other jobs the home assigned. After a morning of work, we relaxed and hung out with the pequeños in the afternoons.
While there, we provided daily updates and photos so everyone back home could follow along on our journey – check out our blog below!
Our NPH 2019 Blog
(Most recent posts at the top – scroll down to start at the beginning! When reading a post, you can click on any photo to see a larger version.)