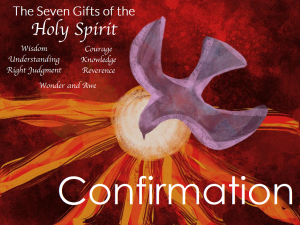 As the Sacrament that completes our Baptism, Confirmation and the associated catechetical program encourages faith development and maturation through study, service and prayer. The two-year program challenges our youth to deepen their faith and embrace the mission of service to others in need. Adult mentors and volunteers offer meaningful support and catechesis to promote the religious development of our young adults.
Our Collaborative Sunday 5pm Youth Mass – a more deliberately youth focused liturgy that rotates from week to week between St. John Church and St. Paul Church during the school year – is at the center of preparation for Confirmation. From the music, to the homilies, to the Spirit-filled sense of vibrancy and joy, we are prayerfully approaching a liturgy that touches the hearts and minds of our young people and all who come to celebrate the Mass and grow in faith together. Our hope is that this full, active participation in the liturgy, the source and summit toward which the activity of the Church is directed, will give our young people a lived connection to Christ Jesus and the community of the Church.
Confirmation I and II students must participate in Religious Education classes. The program is designed as a two-year commitment which begins in the fall of ninth grade and is usually completed by the spring of tenth grade.(Individuals enrolled in a Catholic school may be exempt from attending the first year.) The program is centered on the students' participation at Mass, supplemented with classroom work driven by the Dynamic Catholic curriculum. When attending Mass at St. John or St. Paul, students will "check in" using their smartphones to scan a QR code posted in the entryways of the churches. (Mass attendance at an outside parish, or participating in the Mass online, can be reported using the online Mass Attendance Form.) In the end, we will look to the student to assure us that they have fulfilled this requirement.
Classes meet as scheduled (usually once or twice a month) following the Sunday 5pm Mass. In an effort to facilitate the Dynamic Catholic curriculum more effectively and establish a better sense of community for our students as they prepare for this important sacrament, we have added a "Pizza & Prayer" component to our Confirmation Preparation classes. "Pizza & Prayer" consists of an hour of activities like watching the Dynamic Catholic lesson videos, eating pizza and socializing with other students, completing community service activities, listening to guest speakers, playing games etc. Many of the activities will be facilitated by confirmed High School juniors and seniors in our Elysian program.
Our 10th graders will have their "Pizza & Prayer" hour from 6:00 – 7:00pm in Powers Hall (lower level of St. John church) immediately following the Sunday 5pm Youth Mass, and then attend class in the Collaborative Parish Center from 7:00 – 8:00pm.
Our 9th graders will attend class in the Collaborative Parish Center from 6:00 – 7:00pm, and then have their "Pizza and Prayer" hour from 7:00 – 8:00pm in Powers Hall (lower level of St. John church.)
We also encourage participation in our newly reinvigorated Youth Ministry program. The focus of this program is to help give our young people a lived connection to Christ Jesus and the community of the Church, and help them to grow in faith as young adults. Youth Ministry also offers service opportunities within and outside our Collaborative, as well as social and recreational activities, to help our young people strengthen their connections to each other and to their community.
Program details and requirements are available here: Confirmation Program Details and Requirements
For More Information
Please email Linda Messore at linda.messore@sjspwellesley.org