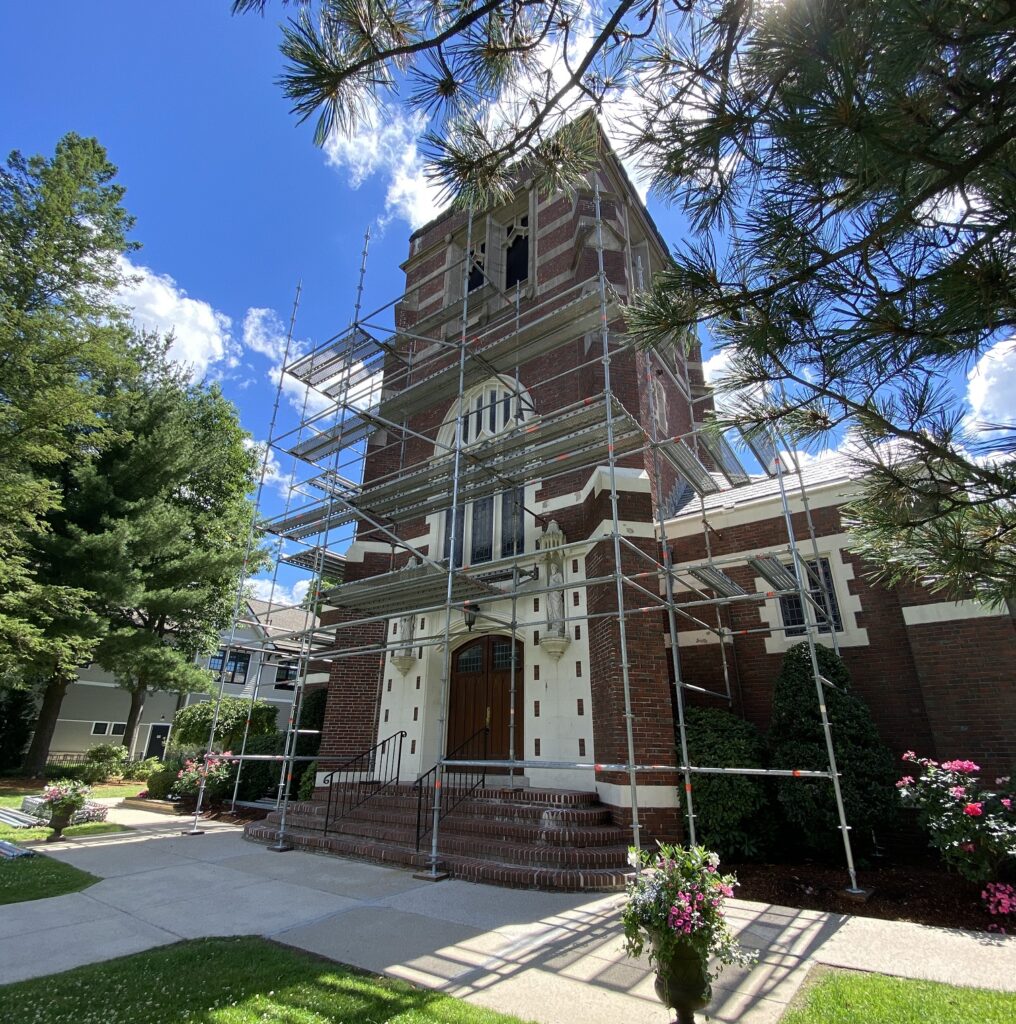 "…when the peal of this bell resounds in the clouds may a legion of angels stand watch over the assembly of your Church, the first-fruits of the faithful, and afford your ever abiding protection to them in body and spirit."
-from the "Blessing of Bells"
The scaffolding is up and the work is about to begin! As you can see in the photo, the scaffolding is set up to allow access to the main doors of the church during construction. The structural work will begin any day now and is scheduled to be complete by the end of November 2022. Once the structural work is finished, the final step will be to restore the bell's ringing mechanism so that the peal of our wonderful bell may once again resound in the clouds!
This is a large undertaking, and represents a significant investment in St. Paul Parish. The total cost is budgeted to be $487,200, and the Parish has been approved for a short term loan from the Archdiocese to cover up to seventy-five percent of the budget. While we are fortunate to have additional income from the leasing of the school building, we still need the assistance of the St. Paul community to fund this project and to repay the loan. Our parishioners have a long history of giving generously to support our parish. Please take a moment to prayerfully reflect on how you can contribute.
Online contributions can be made here: ST. PAUL BELL TOWER FUND – GIVE TODAY! Donations may also be made by using the reply envelope that was mailed to all registered St. Paul parishioners, and additional envelopes can be found in the back of both churches. If you have any questions or need more information, please feel free to call the parish office at 781-235-1060 or email Jackie Welham, Director of Finance and Operations.
We look forward to the day we can all gather together to proudly ring the bell at St. Paul Church once again!
July 3: Update on the St. Paul Bell Tower Project