Our May 2022 "Remember the Children" campaign on behalf of our friends at NPH was a tremendous success! Our goal was to raise $37,000 to fund education for children in the Mexico home. Thanks to our youth and adult fundraisers, and all of you who donated, we exceeded the goal by collecting $54,431.
John Deinhart, CEO, NPH USA and Andrea Nahigian, the new Donor Relations Director on the East Coast, visited the Collaborative to thank us in person. John noted:
"The St. John-St. Paul community has been a true blessing in the lives of countless children of Nuestros Pequeños Hermanos. This community truly embodies our Gospel call, 'whatever you do for the least of these, my brothers and sisters, you do for me.' With your help, NPH can now send 42 students to school to receive a 7th education.

In the countries where we serve, education beyond the sixth grade is considered a 'private education' as the government does not require or fund education past primary school levels. Statistics show that those with only a sixth-grade education are destined to a life of poverty because they will be denied jobs that require more education. Poverty, then, is perpetuated in endless cycles.

But thanks to the St. Paul & St. John parish communities, these children are no longer a statistic. They now have a fighting chance".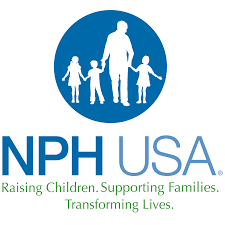 Founded by Father Wasson (from Arizona) in 1954, NPH (Nuestros Pequenos Hermanos) fully supports more than 3,300 vulnerable boys and girls and young adults in Bolivia, Dominican Republic, El Salvador, Guatemala, Haiti, Honduras, Mexico, Nicaragua, and Peru. An additional 2,800 children and families in local communities receive scholarships and other educational financial assistance, meals, health care services, and crisis response support, and more.
Unlike any other moment in our lifetime, the Covid-19 pandemic upturned our lives and our understanding of the world. But unlike in the U.S., the countries where the NPH Homes reside didn't have the benefits of government subsidies, local nonprofits, or food pantries to help them survive. During that same time, NPH USA had to cancel all their in person fundraising events and postpone international trips as Covid-19 restrictions swept across the globe. NPH Homes were thereby faced with a $2M budget deficit.
NPH's survival came down to cutting any expense beyond meeting a child's most basic level of needs. This meant that even the core programs, dedicated to lifting children from poverty, were eliminated just so they could focus on keeping the pequeños safe, fed, and loved.
The St. John-St. Paul Collaborative has been a part of the NPH family since 2017. The NPH Pequeno tour has come to our Collaborative twice – in 2017 and 2019. The Pequenos stayed with families from our parishes and joined us for Masses at both churches, sharing their music and joy. Our Collaborative families currently sponsor more than 75 children at the NPH homes.
In the summer of 2019, our SJSP Youth Ministry team, including Fr. Jim, travelled to the NPH Dominican Republic home with a group of high school students for a week-long service and immersion trip. This trip provided a firsthand experience of how NPH transforms the lives of children! While there, the group provided daily updates so we could follow along on their journey – please check out their Summer 2019 Trip to NPH Dominican Republic blog for more amazing photos and stories!
The children need our help now more than ever. Their sustainable sources of funding remain weakened and they are still living on a 'survive and thrive' budget. The children are counting on those who have met them to remember them.
We will be promoting this "Remember the Children" effort from May 7 to May 22, concluding with a Special Second Collection May 21-22, 2022.
"Remember the Children" – A Reflection from Anne Mears
I had the privilege of visiting the NPH Dominican Republic home during the Summer of 2019 when I chaperoned the High School service Trip from our St. John-St. Paul Collaborative.
I had worked with NPH in the past when the Pequeño Tour had come to play and sing during our Sunday Masses. The young people who visited from the Guatemala home during this visit were an outstanding group of young people and NPH emphasize that they strive to make their homes as close as they can to a stable loving family atmosphere.
When I went to the DR I saw this for myself. The children live in small homes within the larger home and are looked after by Tías (Aunties) and are also mentored by older children who have been brought up in the home.
That the 200 or so children who live there feel like they belong to a real family became a reality to me when one day the gates of the home were opened and a car drove in with one of the older NPH children who had returned from his job working on a cruise ship. He had been away for 3 months and when he opened the car door, every one of the children in the home began to shout for joy, dropped whatever they had been doing and ran to embrace him.
What a truly wonderful homecoming for that young man and what a testament to the success of NPH's work to create a stable, loving family atmosphere for so many children!