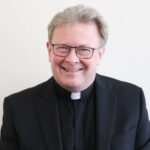 I am thrilled to let you know that we will be welcoming a new deacon to our St. John-St. Paul Collaborative community!
Rick Vatcher will be ordained a Permanent Deacon on September 9, and will be joining our Collaborative pastoral staff in a part-time capacity after that.
Below is a brief introduction – I know you will join me in welcoming him to the Collaborative!
– Fr. Jim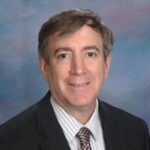 Rick Vatcher lives with his wife of 34 years, Rita, in Framingham. They have 2 grown children, Margaret (Maggie) and William. Rick will be ordained on September 9 as a Permanent Deacon by Cardinal O'Malley at the Cathedral of the Holy Cross in Boston following 4+ years of diaconate formation.
Rick's favorite class during formation was Trinity/Christology taught by Dr. Angela Franks at St. John's Seminary) Rick is currently employed by GSK Pharma where has worked as the head of Third Party Management and ABAC for the R&D division since 2012. Prior to this Rick worked in the hi-tech, marine, and semi-conductor industries and spent multiple years living in England and Japan. If you see Rick ask him the middle names of William and Maggie.