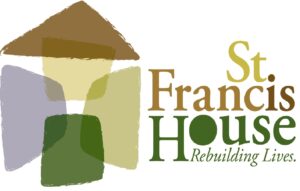 Put your gently used clothing to good use to support men and women in need! St. Francis House serves approximately 50 clothing appointments per day (M-F), providing 250 full sets of clothing per week to their guests! Donations may be dropped off in the St. John Garage (behind the church) OR the St. Paul Garage (behind the rectory) between 9:00am – 5:00pm. Please box or bag everything – no hangers.
Please note that over 80% of St. Francis House' guests are men, so it has been our tradition to have a men's-focused clothing drive, but women's clothing is also accepted. Children's clothing is not accepted.
Gently-used clothing needs:
Fresh Threads Program – regular everyday clothing
Men's & Women's coats (bigger sizes preferred)
Men's & Women's sneakers, shoes, boots (no high heels)
Men's & Women's jeans, khakis, cargo pants
Men's & Women's sweatshirts, hoodies
Men's & Women's polos, long sleeve shirts
Men's & Women's t-shirts
Men's & Women's winter hats
Men's belts
Backpacks, duffel bags
Studio Shine Program – business casual clothing
Men's tailored button shirts and polo shirts
Women's button blouses (loose and fitted)
Short sleeve and long sleeve tops
Cardigans and sweaters
Men's casual sport coat, blazer, and suit jacket
Women's casual long sleeve blazer
Men's slacks, dockers, and corduroy pants
Women's slacks, skirts, and business casual dresses
Outerwear – coats and jackets
Belts and ties
Business casual walking shoes
New clothing need:
New socks (in original packaging) for their Foot Clinic.
St. Francis House rebuilds lives by providing refuge and pathways to stability for adults experiencing homelessness and poverty. To learn more, please visit: https://stfrancishouse.org/
If you have any questions, please email Shilan Yeung at shilanhappy@gmail.com.
Annual Adult Clothing Collection June 3-4