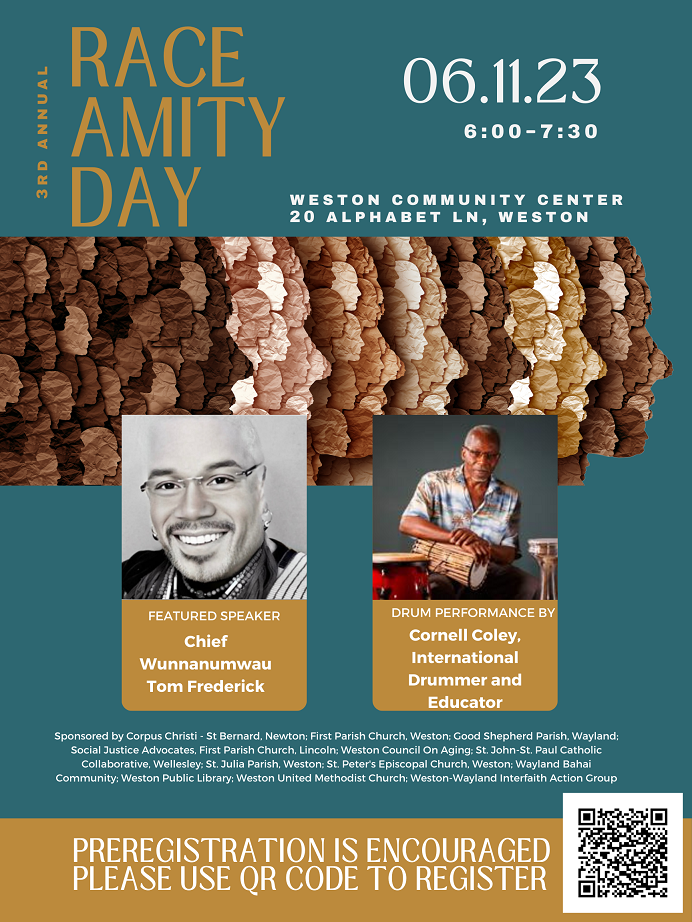 Our St. John-St. Paul Collaborative, along with a number of other local parishes, religious, and community organizations, is a sponsor of this year's Race Amity Day in Weston. All are warmly invited to join in this special and hope-filled evening!
We continue to be inspired by the spirit of Race Amity Day, as outlined by Gov. Charlie Baker:
"The governor shall annually issue a proclamation setting apart the second Sunday in June as Massachusetts Race Amity Day to recognize that the people of the Commonwealth is comprised of multicultural, multiethnic, multiracial citizens, and to encourage friendship, collegiality, civility, respect and kindness as the commonly shared ideals of the collective citizenry of the commonwealth by joining with communities across the United States to reflect on the beauty and richness of the diverse peoples of this great nation while reaching out with a spirit of amity toward one another annually and recommending that the day be observed in an appropriate manner by the people."
In addition to our Collaborative, sponsors this year include:
Corpus Christi-St. Bernard Parish, Newton; First Parish Church, Weston; Good Shepherd Parish, Wayland; First Parish Church, Lincoln; Weston Council on Aging, St. Julia Parish, Weston; St. Peter's Episcopal Church, Weston; Wayland Baha'i Community; Weston Public Library; Weston United Methodist Church; Weston-Wayland Interfaith Action Group; and other individual donors.
Race Amity Day – Sunday, June 11 from 6:00-7:30pm at the Weston Community Center