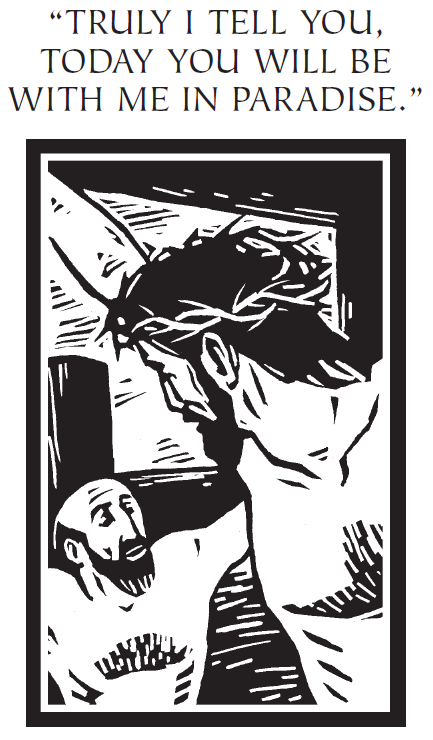 One of the criminals who were hanged there kept deriding him and saying, "Are you not the Messiah? Save yourself and us!"
But the other rebuked him, saying, "Do you not fear God, since you are under the same sentence of condemnation? And we indeed have been condemned justly, for we are getting what we deserve for our deeds, but this man has done nothing wrong."
Then he said, "Jesus, remember me when you come into your kingdom."
He replied, "Truly I tell you, today you will be with me in Paradise."
Luke 23: 39-43
Here are some thoughts and questions for your consideration this week:
Try to set aside fifteen minutes. Distractions in prayer are as normal and ordinary as they are in any relationship. Don't get discouraged.
Read the selection from Luke 23:39-43 above. Try to imagine that scene, putting yourself at the foot of the cross. 
Recall how your own attitude toward suffering or toward a difficult situation has either helped or hindered you. 
In the Hail Mary, we ask her to intercede for us "now and at the hour of our death." Does that particular line hold much meaning for you? 
Reflect on the love that Jesus has for us, that love that invites us to be with him. 
At the outset of Lent, you had a particular desire as you begin this book; has that desire sharpened or changed during the ensuing weeks? 
Fourth Week of Lent: The Fifth Word – "Truly I tell you, today you will be with me in Paradise."