Since its first edition in Rome in 1986, World Youth Day (WYD) has proven to be a laboratory of faith and an instrument for the evangelization and transformation of the Church. It aims to provide all participants with a universal Church experience, fostering a personal encounter with Jesus Christ. With young people as its protagonists, WYD also seeks to promote peace, unity and fraternity among peoples and nations around the world.
Our Collaborative has a long history of sending young pilgrims to WYD. Many of our young people who have attended in the past have described it as a life-changing event in their journey of faith.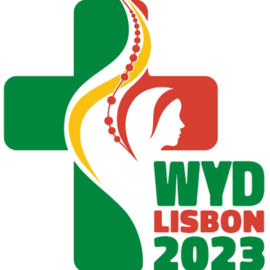 This summer, our Collaborative is sending 14 pilgrims – 10 young people and 4 chaperones – to WYD Lisbon 2023. As you can imagine, the expense of participating in this week-long pilgrimage is significant – the total cost is projected to be $4,000 per person – so we are asking for your help to make this possible. This weekend, our pilgrims will be introduced at all Masses so you can begin to get to know them. (Learn more about WYD and our pilgrims by visiting www.sjspwellesley.org/wyd – be sure to visit the Meet the Pilgrims page! )
Please consider sponsoring one (or more!) of our pilgrims by making a financial donation in their honor and lending your spiritual support in the form of prayer. You can choose the pilgrim(s) you would like to sponsor, or you can ask us to direct your sponsorship to where it's needed most.
Your financial support will greatly reduce the individual cost of the trip, and your prayers will transform an incredible experience into an encounter with our Lord Jesus Christ and the impactful presence of His Church.
Sponsorships may be made online www.sjspwellesley.org/wyd or by completing a Sponsorship Form (the pilgrims will have Sponsorship Forms at church this weekend) and returning it with your check (made payable to either parish with WYD 2023 in the memo.) Checks and forms may be returned directly to the pilgrims or to either parish office.
Our Pilgrims
John Brosnahan – Sophomore at Wellesley High School
Abby Coleman – Sophomore at Wellesley High School
Agnese DelVecchio – Sophomore at Wellesley High School
Grace LeVasseur – Sophomore at The Ursuline School (New Rochelle, NY)
John McCurley – Sophomore at Wellesley High School
Eva Meraw – Sophomore at Wellesley High School
Mia Songer –Sophomore at Newton South High School
Andrea Villalba – Freshman at Sacred Heart University (Fairfield, CT)
Vanessa Villalba – Junior at Saint Joseph Prep (Boston, MA)
Edward Voldins – Sophomore at Wellesley High School
Chaperones
Luke DelVecchio – SJSP Youth Minister
James Hastings – SJSP Youth Minister
Kelly Winter Meraw – Director of Pastoral Care -SJSP Collaborative, Director of Music – St. John Parish
Patricia Amend Bombara – Director of IT and Communications
World Youth Day Lisbon 2023 – Sponsor a Pilgrim!