As Christians we are called to minister to the poor and needy among us. The parable of the Good Samaritan offers a prime example of the ministry Jesus envisioned. Throughout more than two millennia, service to the poor has been an important component of all Christian ministries. Guided by the vision and leadership of St. Vincent de Paul and Blessed Frederic Ozanam, a world-wide Vincentian community carries out its mission of service to the poor while fostering spiritual development of all its members.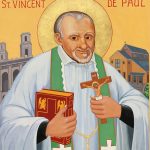 St. Vincent de Paul (1581-1660) laid the groundwork for Vincentian community throughout his life. From humble origins in a village in southwest France, Vincent began his ministry when he was ordained at the age of 19 while still a student at the University of Toulouse. Vincent dedicated his whole life to service of the poor. Vincent's ministry expanded as he founded the Confraternity of Charity, the Congregation of the Mission (also known as the Vincentians), and encouraged others to form groups dedicated to service of the poor, such as the Daughters of Charity.
St. Vincent is recognized as the "Apostle of Charity" and "Father of the Poor," as well as being named patron of all works of charity by Pope Leo XIII in 1885. Vincent de Paul was canonized by Pope Clement XII in 1737. St. Vincent de Paul's Feast Day is September 27.
Blessed Frederic Ozanam (1813-1853) was born in Milan, Italy during his family's temporary relocation from Lyon, France. His parents were devout Catholics who taught Frederic to seek Christ in those who bore the burden of human suffering. Frederic possessed both intellectual genius and extraordinary holiness. On his twentieth birthday, in 1833 Frederic and five other students established the Conference of Charity of St. Vincent de Paul, soon to be called The Society of St. Vincent de Paul.
Frederic Ozanam is generally recognized as the prime founder of the Society of St. Vincent de Paul. Though he filled many roles during his short life, including professor, author, husband and father, and defender of the faith, Frederic was, above all, a Good Samaritan. Pope John Paul II beatified Frederic Ozanam in 1997. Blessed Frederic Ozanam's Feast Day is celebrated on September 9.
Today the Vincentian family of communities extends to many parts of the world. It includes: the Ladies of Charity; the Congregation of the Mission; the Daughters of Charity; Vincentian Marian Youth: the Sisters of Charity Federation; the Association of the Miraculous Medal; and, the Society of St. Vincent DePaul. The Society of St. Vincent de Paul continues to grow. As of 2014, it was established on five continents, in 150 countries with approximately 800,000 members. Though united as Vincentians in an international community, we as members of the Society are organized locally.
Next week , we will recount our history within the SJSP Collaborative and highlight our work to date.
Celebrating St. Vincent de Paul: The History