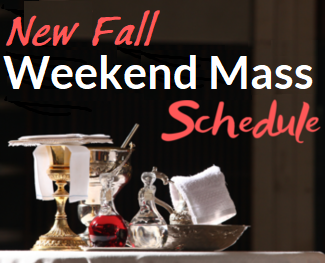 Since Fr. Jim's accident in early June, our Collaborative staff have worked tirelessly to assure Mass coverage for our Collaborative, with support and guidance from Fr. Hehir. It was not easy, but we were able to maintain our typical Summer Weekend Mass Schedule of four Masses thanks in large part to the outpouring of support for Fr. Jim from his brother priests. The less-hectic summer schedules of both nearby parish priests and priests from the Jesuit Community at Boston College allowed them to assist us throughout the summer. We understand, however, that their availability will decrease drastically come September, as their own demanding parish and academic schedules return.
As you know, it will still be many months before Fr. Jim is able to resume his ministry here at the Collaborative. As we approach the end of summer and what would normally be a return to a Regular Weekend Mass Schedule of seven Masses, we must recognize that it is simply not possible to maintain that number of Masses with one priest in residence (Fr. Hehir) and assisting priests.
Given this reality, we must suspend the 7:30am Sunday Mass at least for the fall. (As you will recall, last year the 7:30am Mass was celebrated at St. John Church from September through December and at St. Paul Church from January through May.) It will still be extremely challenging to cover six Masses each weekend, but covering seven is not possible. As we move through the fall and get a better sense of the timing of Fr. Jim's return, we will re-evaluate the schedule for January through May.
Over these past several years, we've had to adjust the number, time, and locations of our Masses numerous times to respond to changing Covid conditions. This was not easy for anyone, but as a community you adapted to these necessary changes with charity and grace. We are asking for your understanding, and your continued charity and grace, as we work together through this current challenge.
The Fall Weekend Mass Schedule will be in effect from the weekend of September 10-11 through the weekend of December 31-January 1:
SATURDAY
4:00pm Mass at St. Paul
5:00pm Vigil Mass at St. John
SUNDAY
*9:00am Family Mass
11:00am Mass at St. Paul
12:00pm Mass at St. John
*5:00pm Youth Mass
*The 9:00am Family Mass and 5:00pm Youth Mass rotate between the parishes on the following schedule:
On the 1st, 3rd, and 5th Sundays of the month, the 9:00am and 5:00pm Masses are at St. John.

On the 2nd and 4th Sundays of the month, the 9:00am and 5:00pm Masses are at St. Paul.
Our Weekday Mass schedule will remain the same
MONDAY – WEDNESDAY – FRIDAY
9:00am Mass at St. Paul
TUESDAY – THURSDAY
7:00am Mass at St. John
In the event that we are unable to secure a celebrant for a Weekday Mass, a Liturgy of the Word with Distribution of Holy Communion will take place. Whenever possible, we will update the calendar on the website to let you know in advance, but please understand that during this time there may be last minute changes, and we thank you in advance for your patience and understanding. (A list of area parishes and their Weekday Mass schedules can be found here.)
Our Collaborative Mass Schedule for the Fall