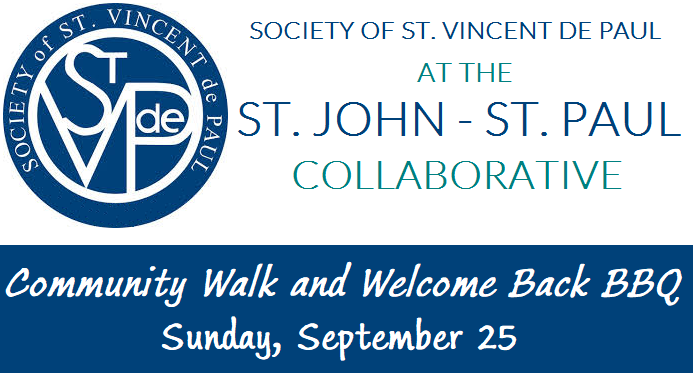 The SJSP St. Vincent de Paul Conference
will be celebrating Saint Vincent de Paul's Feast Day
the weekend of September 24-25, 2022
Please follow notices here on the website and in the bulletin over the next several weeks to learn more about his life, the work we do guided by his vision of service to God through service to the poor in our community, and the details about our celebrations of our community.
On Sunday, September 25, we will culminate the festivities with a "community walk." All parishioners are invited to join us as we walk from St. Paul Church to St. John the Evangelist Church after the 11:00am Mass at St. Paul.
Following the walk, we will welcome all parishioners back for the fall season with a barbecue lunch in the Saint John School parking lot after the 12:00pm Mass at St. John.
STAY TUNED – MORE DETAILS TO COME!
Save the Date! Celebrating the Feast Day of St. Vincent de Paul