Each year, through our Collaborative Lenten Gift, we reach out as a community to one particular place of suffering, amid so many in the world. This year, we will open our eyes and hearts to the plight of those suffering on the streets of Boston. We will reach out through our support of the Boston Health Care for the Homeless Program (BHCHP), which provides the highest quality health care services possible to some of the most vulnerable members of our community – Boston's homeless individuals and families of all ages.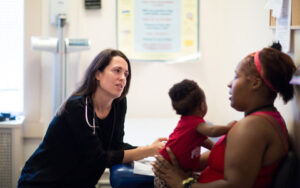 A well-known and well regarded organization, they care for an average of 11,000 homeless individuals each year. They have a team of more than 400 people conducting clinics in more than 45 locations stretching across the city of Boston and beyond. They offer comprehensive medical, dental, psychiatric, and addiction services to those living on the streets and in shelters.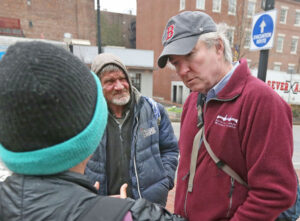 Throughout Lent, the Service Commission shared the BHCHP story with you, with weekly installments in the bulletin and on our website. Many of you read the book Stories from the Shadows: Reflections of a Street Doctor written by Dr. James O'Connell, founder of the BHCHP. We enjoyed an inspiring evening with Dr. O'Connell and he answered many thoughtful questions and we are so grateful he could be here. (You can watch his presentation here.) Last weekend, you heard from members of our Service Commission at all Masses.
This is our opportunity as a Collaborative to show Christ-like love for our neighbors in distress, and for each of us to answer Lent's clarion call to love extravagantly. On behalf of the Collaborative Service Commission, we ask that you be as generous as your means will allow. Checks should be made payable to your parish, with "2022 Lenten Gift" noted in the memo. If you prefer, you may donate online at any time during the Lenten season, or by sending a check to your parish office. Thank you.
This Weekend: Special Second Collection for Boston Health Care for the Homeless Program