This Lent, as we prepare to begin our synodal journey, we will dive deeply into Pope Francis' recent book, Let Us Dream: The Path to a Better Future, written during the pandemic in collaboration with his biographer Austin Ivereigh. In a relaxed and conversational tone, Francis poignantly captures the ills of today's world and suggests practical solutions for overcoming them, both personally and systemically.
Those wishing to understand Pope Francis' emphasis on synodality will find many revelations here – we encourage everyone to read this wonderful book!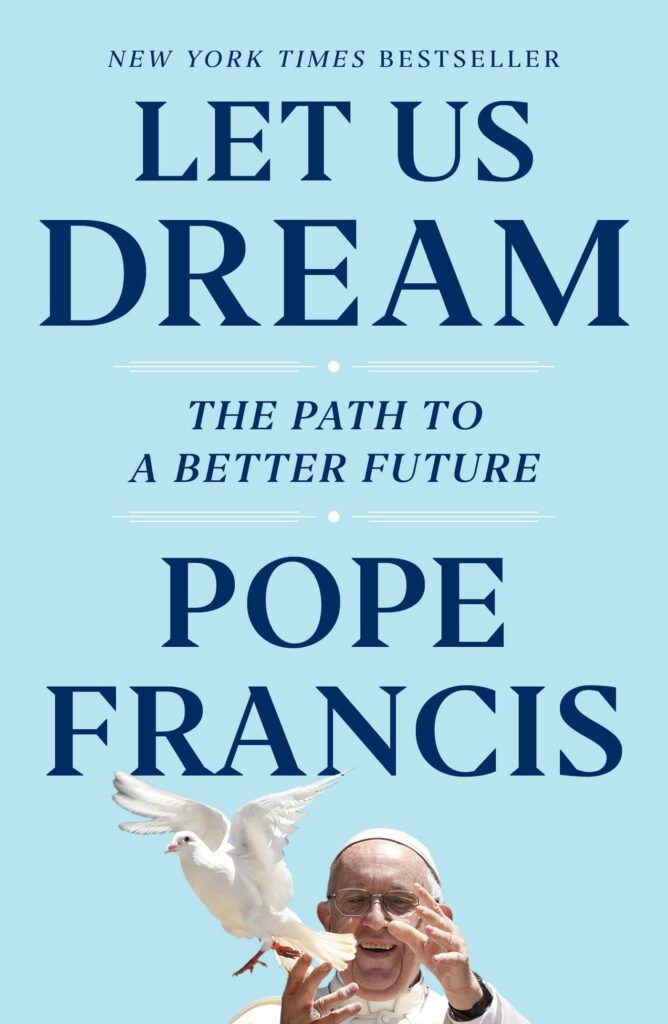 Let Us Dream is divided into three parts. In Part One: A Time to See, Pope Francis explores what this crisis can teach us about how to handle upheaval of any kind in our own lives and the world at large, and with much candor reveals how three crises in his own life changed him dramatically for the better. The Pope asks readers to adopt a new way of seeing – one that views the world from the periphery rather than the center, because "you have to go to the edges of existence if you want to see the world as it really is." Throughout this discussion, he offers dozens of wise and surprising observations on the value of unconventional thinking.
In Part Two: A Time to Choose, Pope Francis offers an unsparing critique of the systems and ideologies that came together to produce the current crisis. He reminds us that Christians' first duty is to serve others, especially the poor and the marginalized, just as Jesus did. He explores the aspects of discernment that should guide our actions, including being open to reality, and knowing we are loved by God and called to be a people in service and solidarity. The voice of God, Francis tells us, is gentle, encouraging, and full of hope – it illuminates the here and now and "opens your horizons." Through quiet reflection and communal dialogue, we can discern the prodding of the Spirit and the way forward.
Finally, in Part Three: A Time to Act, Francis exhorts us to "recover our sense of belonging, the knowledge that we are part of a people." He writes that the church must serve to deepen the bonds of belonging, not through paternalism, but through encounter and accompaniment. By engaging with those on the peripheries – following the lead of those "social poets," as Francis dubs them – we participate in the grace of God, which always "calls us together." He offers an inspiring blueprint for building a safer, fairer, and healthier world, showing how ordinary people acting together – despite their differences – can discover unforeseen possibilities.
Please join us for three special Lenten Lectures, featuring Sr. Evelyn Ronan, SND, Kelly Meraw, Director of Pastoral Care, and Fr. Bryan Hehir. Each will take one part of the book and discuss the themes raised and the implications for our lives, our Church, and our world.
Please note: We do encourage everyone to read the Pope's book, but it is not required or even necessary to have read the book to benefit from the lectures – all are strongly encouraged to attend!
Thursdays at 7:00pm at the St. Paul Parish Hall
March 10 with Sr. Evelyn Ronan – Part One: A Time to See
March 24 with Kelly Meraw – Part Two: A Time to Choose
April 7 with Fr. Bryan Hehir – Part Three: A Time to Act
If you are unable to join us in person, you can join via livestream by clicking the St. Paul Live Stream link.
Community Read and Lecture Series – "Let Us Dream: The Path to a Better Future" by Pope Francis