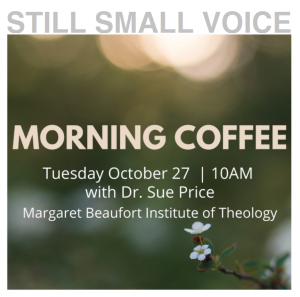 All women of the Collaborative are warmly invited to join the first of our series of virtual gatherings this year.
The Still Small Voice Of Calm… listening to the inner voice in the midst of the busyness of service. The session will consider through prayer, scripture and conversation what it means to be a good servant, so that we can serve others and ourselves in the midst of the current, and ongoing demands that we are all facing at this time.
Speaker Dr. Sue Price is based in Cambridge, UK, and works as Pastoral Outreach Coordinator for the Margaret Beaufort Institute of Theology whose primary mission is to educate and theologically empower women in the Church.
To register and receive the Zoom link please email Carolyn Anderson
A Virtual "Evening for Women" Morning Coffee
Tuesday, October 27 at 10:00am