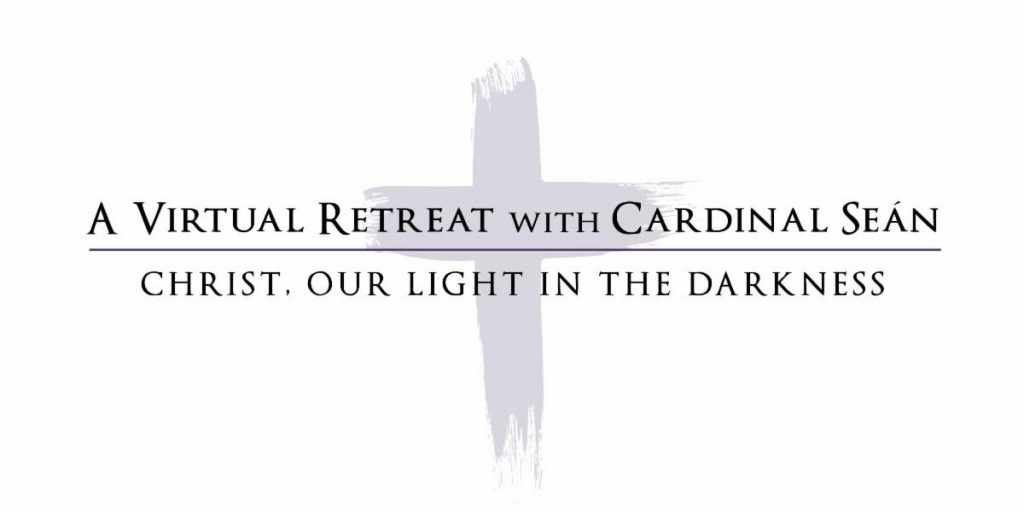 We will remember this Lent as one "in quarantine." Social distancing the new norm as daily social interactions are suddenly unavailable to us. Schools are closed. We can't go out to restaurants. Even public Mass has been suspended to curtail any further spread of this coronavirus. Many people feel alone. Many are scared. And people are thirsting for something good.
The Lord appoints shepherds to lead his flock, to be beacons of light in darkness, and to be instruments of hope to his people in times of despair. This Virtual Lenten Retreat with Cardinal Seán is a means for our shepherd to feed us, to comfort us, and to give us the hope we need right now.
Join Cardinal Seán on this five-part retreat, using this opportunity to enter more deeply into Lent and grow in your relationship with Christ.
Virtual Lenten Retreat Schedule
Monday, March 23, 7:00 PM – Prayer
Tuesday, March 24, 7:00 PM – Mercy and Forgiveness
Wednesday, March 25, 7:00 PM – Faith: The Key to Meaning and Call to Friendship
Thursday, March 26, 7:00 PM – Who is My Neighbor? The Good Samaritan
Friday, March 27, 7:00 PM – The Seven Last Words
Additional Holy Thursday Retreat
Thursday, April 9, 7:00 PM – The Eucharist
Mass of the Lord's Supper
from the Cathedral of the Holy Cross
to follow on CatholicTV at 7:30 PM
Retreat will air/stream nightly at 7:00 PM on:
Catholic TV Facebook page (click here)
Archdiocese of Boston's Facebook page (click here)
Bostoncatholic.org (click here)
All are welcome
A Virtual Retreat with Cardinal Seán