We woke up to another beautiful day in Warsaw. The temperature is around 80 degrees with a breeze which is perfect for traveling.
After breakfast in the hotel we packed up our luggage, checked out and boarded our buses for Czestochowa.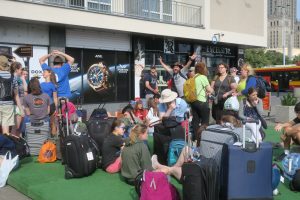 We headed to one of the most important religious sites in Poland. The Jasna Gora monastery in Czestochowa is the home of the early C14th icon of Our Lady which is know as the Black Madonna.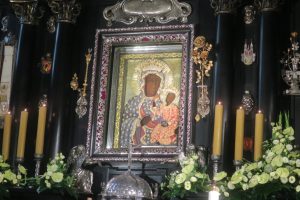 This is one of the most famous images of Mary in the world and the icon continues to draw thousands of pilgrims each year. When Poland was under the rule of Communism, the number of pilgrims making a pilgrimage to visit the icon alarmed the Communist authorities who eventually stole the painting in an effort to stop the large gatherings at the site. The plan backfired however, as the number of pilgrims increased instead of decreasing, with people instead coming and praying at the empty frame. Eventually a group of priests arranged to "steal" the icon back from the communists and it has remained in its position in Jasna Gora ever since.
We were so lucky to have mass in the chapel in front of the icon which was celebrated by Archbishop Wenski of Miami.
This monastery contains many beautiful  chapels with stunning architecture.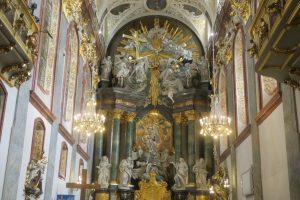 After mass and a little time for ice cream and souvenir shopping we headed back to the bus.
We were met in Czestochowa by some members of our parish who are from the town and who will be joining us for the rest of World Youth  Day.  We are so lucky that we will have fluent Polish speakers with us from now on. We also appreciated the treat they brought for us before we started our next bus journey.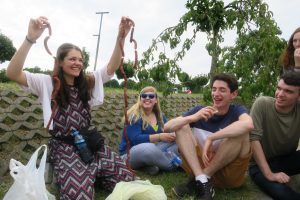 We arrived in Kraków in the early evening, checked into our hotel and headed straight into the city center  – what an absolutely beautiful place it is.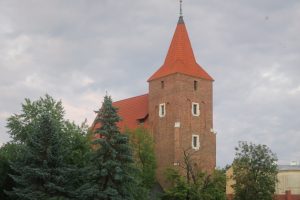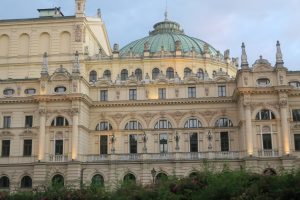 We were just in time for a group photo before sunset.
The square in the Old Town is the third largest in Europe and is surrounded by outside cafes. We had a great dinner in one of these cafes right next to the Basilica.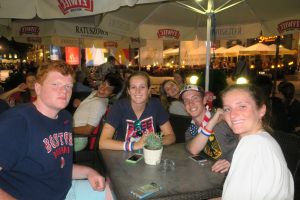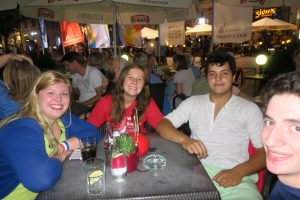 The sense of excitement for WYD is tangible in the city. Groups are beginning to gather and the thoughtfulness of the organization is great – stages are set up with music playing already, there are directions, maps and guides everywhere and everything feels ready for an amazing World Youth Day.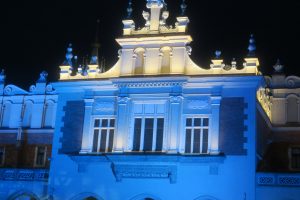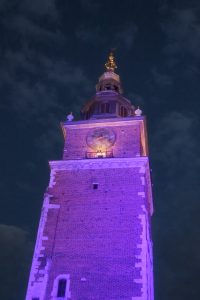 All safely in bed now and ready for an early start tomorrow.
….. And yes I can spell Czestochowa without looking it up.