Today started with breakfast followed by a 2 hour ride on the bus to visit Auschwitz.
We had prepared our young people as well as we could for their visit and they have learned about the Holocaust at school, but nothing can prepare them for how they will feel when they are actually walking around Auschwitz.
There is a special route around the camp which is available for all the World Youth Day pilgrims who will visit this week and we walked around quietly and respectfully.
We were given a leaflet especially prepared for WYD pilgrims and I think the prayer on the front summed up the atmosphere there today with these young people.
The most important prayer at the threshold of Auschwitz is – silence.
Silence
Listening
Searching
the voice of Auschwitz
the voice of your own heart
the voice of the other
the voice of God.
We saw the memorial to Maximilian Kolbe who gave his life for another man and we stopped to pray for a while in the camp.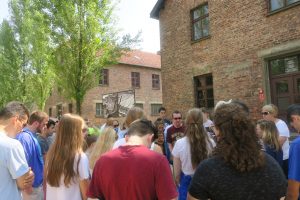 Pope Francis is going to visit Auschwitz later this week and has said that he wishes to be silent and pray when he is there and so it felt very right for us to be doing the same. In fact the quietness continued for a while when we boarded the buses before we gradually began to share our feelings and thoughts a little.
Part of the wonderful planning of this pilgrimage by the Archdiocese is that immediately after leaving Auschwitz and Birkenau we headed straight to the shrine of Divine Mercy just south of the city of Kraków.
This huge basilica is dedicated to St. Faustina's visions and the revelation of Divine Mercy.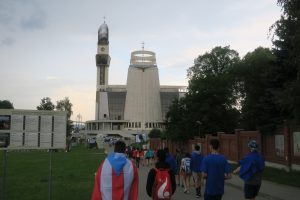 The inside of the basilica housed over 1500 WYD pilgrims for Mass celebrated by Cardinal Sean.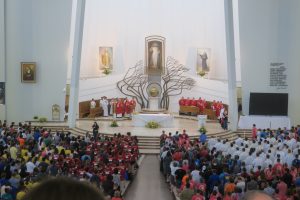 Cardinal Sean did such a wonderful job of summing up the day for our pilgrims, acknowledging that today they have journeyed from "a culture of death in Auschwitz to a culture of life in the Church of Divine Mercy."
He also invited the young people to become men and women of mercy saying that "Mercy must be the face of God. It must be our face."
After Mass the whole group of 300+ pilgrims from the Archdiocese were invited to join together for a meal in a restaurant in Kraków.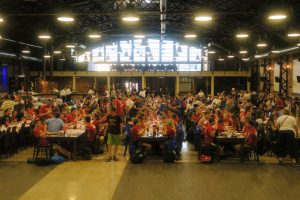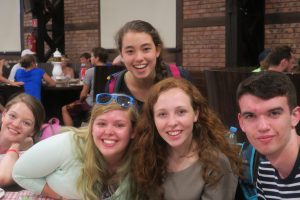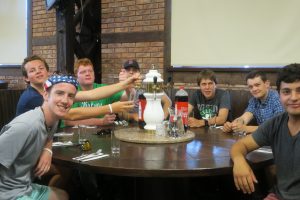 Some made new friends!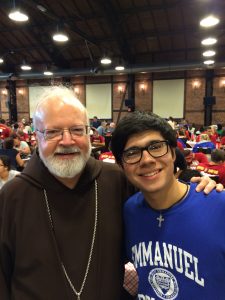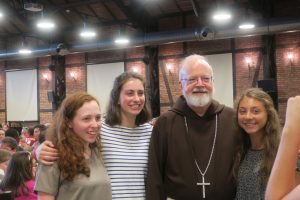 We walked back through the city which is getting more and more exciting. There are stages set up and beginning to hold events and Krakow's numerous churches are open 24 hours a day.  There are water stations everywhere, charging stations for phones, as well as a few fun things to do while waiting!
Today we met pilgrims from Australia, Italy, Ireland, Canada, Honduras, Portugal and Mexico and we will be adding to this list every day as young people flood into the city for the official WYD events over the next few days.