What a busy and amazing day we have had!
Breakfast at 8:30am was a welcome late start for us after yesterday. All pilgrims slept well and looked so much better than when they went to bed last night after being up for two days!
After breakfast we boarded buses which took us to Holy Redeemer Church close to the Old Town of Warsaw. The whole group from the Archdiocese of Boston met us there for mass together.
We were welcomed by one of the nine priests in the parish who told us some of the history of the beautiful church and told us that the church is full of people praying from early in the morning to late in the night.
Mass was celebrated by Fr Mark Bishop, one of the priests from the Archdiocese of Boston. He preached a fantastic sermon to the 300 young people there. He talked about John Paul II and how he understood that the young people of our church are the seeds and plants which are growing to nourish the whole world. This was one of the reasons that he initiated the first World Youth Day. The young people were encouraged to take this role seriously and to choose to grow in his image.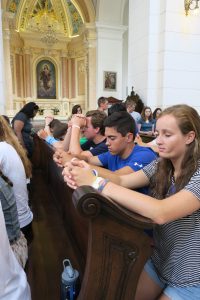 After mass we went on a walking and bus tour of Warsaw and learned more of the history of the city.
This is the monument to the Warsaw uprising of 1944.
We walked through the the square into the market square where we found somewhere for lunch and/or ice cream.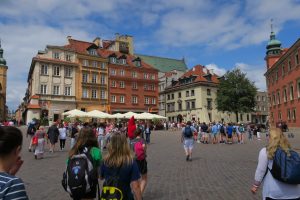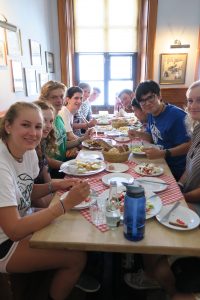 The city is noticeably filling up with more World youth Day groups arriving into Warsaw before making their way to Kraków over the next few days.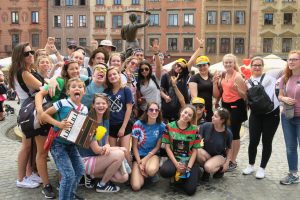 After lunch the buses to us to the church which was the parish church of Blessed Jerzy Popieluszko.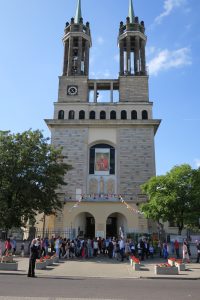 This Polish priest was ordained in 1972 and preached openly against communism despite being repeatedly threatened and arrested by the secret police. The communists tried several times to kill him and make it look like an accident, but eventually they stopped even trying to hide their intentions and the secret police kidnapped and killed him in 1984.
There is a museum underneath the church with a video playing showing his funeral which was attended by 250,000 people.
Fr Popieluszko is buried in the grounds of the church.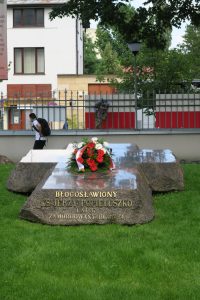 This group travelled from Dubai for World Youth Day. One of our group's challenges is to get a photo with a pilgrim who is the furthest from Boston.
During the bus ride up to our next destination we were led in an examination of conscience in preparation for the final events of the day. Every time we are on the bus there are opportunities for learning and prayer as well as singing and fun … And maybe a little sleeping!
We arrived at the Mazurka Conference Center where we were treated to a beautiful Polish Barbeque. The sun was shining and there was time to relax for a little while with groups of pilgrims from all over the U.S.
We were really lucky to have an amazing talk from Chris Stefanick who will be hosting EWTN's coverage of the WYD events next week. He had 600 young people completely engaged within seconds of getting onto the stage.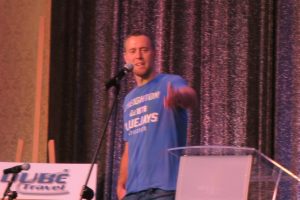 Chris told us all how the greatness of God always triumphs and referenced the lives of Maximillian Kolbe, John Paul II and Sister Faustina. He also spoke about the challenges of pilgrimage and how we are helped to embrace life in a new and deeper way especially through these challenges.
Finally we moved into a church of Divine Mercy next door to the conference center where all 6oo American pilgrims took part in adoration.
All around the church and outside there were priests to offer the sacrament of reconciliation. It is so moving to watch the faith of these young people as they take advantage of this beautiful opportunity. This is what confession looks like on World Youth Day – how wonderful!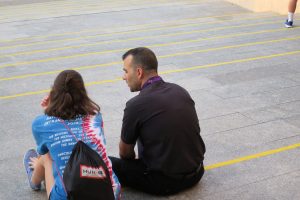 As you can tell, we have had a faith-filled day and now everyone is sleeping soundly.
We prayed for all of you again today. Please remember to keep all of us  in your prayers and especially these special young people as they continue their journey of faith here in Poland.
Off to Czestochowa tomorrow. Hopefully by the time I have finished tomorrow's blog I will be able to spell it without looking it up!