Today started with a welcome late breakfast time of the 9:15!
After breakfast, prayers and small group meetings we set out for a day exploring the city.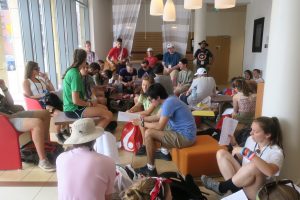 We walked through the Market Square which is getting busier very time we go through.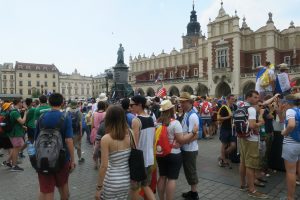 From the other side of the square we headed for Wawel hill where the castle and the cathedral are situated.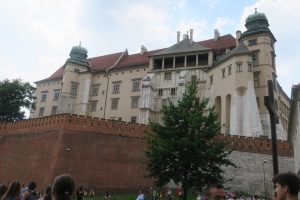 Along the way we saw many groups from around the world and had the chance to interact with them. This usually consists of jumping into each others' group photos!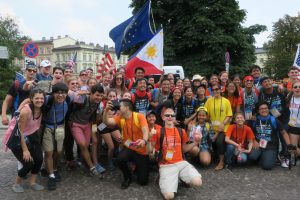 Outside the castle is a statue of a dragon which, according to legend, lived underneath the castle and was slain by King Krak. Some of us didn't believe that dragons breathe fire!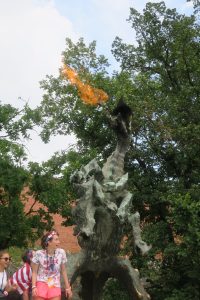 We enjoyed a rainy lunch in the rain after a long wait to get food from the food station. The pilgrims are great about these waits in line even though they can be very challenging.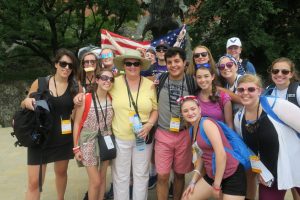 Luckily we had been provided with ponchos in our World Youth Day pilgrim packs which were given to us yesterday.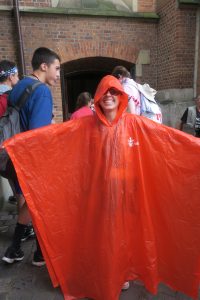 After lunch the Dominican brothers welcomed us into their church in the center of the city where we had a beautiful group mass in the side chapel of St. Theresa of Avila.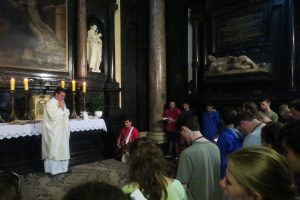 After the mass the brothers invited us into their cloistered garden of the priory where they provided us with coffee and pastries in a huge tent with seating areas for us to rest awhile.
These Dominican barristas made the best coffee I have had since arriving in Kraków! It was so good for everyone in the group to meet and talk with them.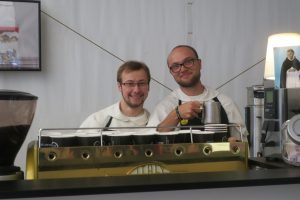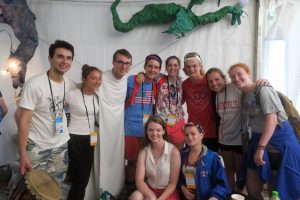 The Youth Group from the Priory church were also there and so we joined together to sing. It's amazing how many songs we had in common even though we are so far away from each other.
The cloister garden is a beautiful oasis in the busy city and was calm and quiet compared to the streets outside which are so busy with pilgrims right now.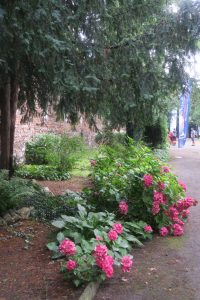 Our next stop was a Franciscan church just near to the Market Square.
In this church there is a replica of the Shroud of Turin and some pilgrims got to see it close up.
There are so many  beautiful churches here in Kraków and we hope to see more on one of the other days.
It was pretty hot walking around the city today and quite humid and so we headed back to the hotel for showers and a change of clothes before going out for the evening into the Market square again.
We have a busy day ahead today and I wish I had taken a picture of everyone's face when we told them that breakfast was at 6:30am and we had to be on the road at 7:15!