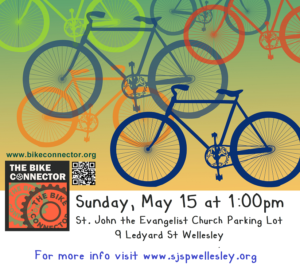 The Bike Connector is a non-profit, 100% volunteer-run, community-based program that provides free bikes for people in need: children who have never had a bike and adults who need transportation. They also offer "Do It Together" bike repair workshop, affordable bicycles, and hands-on educational programming.
They recently provided free bikes to the three Afghani young men we are helping to resettle through the POWIR program. In appreciation for their generous help with our young men, we would like to help support their efforts!
The Bike Connector only works when they have bikes. They depend on generous donors to donate outgrown or unused bikes. Their volunteer team makes necessary repairs to ensure a safe ride.
If you have an idle bike – child or adult – please consider donating it to The Bike Connector at our Bike Collection event! Bikes can be dropped off on Sunday, May 15 at 1:00pm in the Saint John School parking lot.
Please click the video below to learn more about the The Bike Connector and the important work that they do!
Bike Collection for "The Bike Connector" – Sunday, May 15 at 1:00pm in the Saint John School Parking Lot