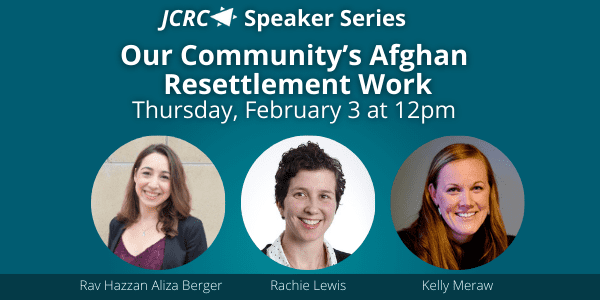 Our community has watched the scenes coming out of Afghanistan – the thousands of Afghans, many of whom laid their lives on the lines for allied forces – desperately trying to flee perilous conditions and escape to safety. And many of us have wondered, "what can we do to help?" Join the Jewish Community Relations Council (JCRC) to learn more about how we work with our partners to build an infrastructure to welcome Afghan immigrants. CLICK HERE TO REGISTER!
Featuring Temple Emanuel's Rav Hazzan Aliza Berger, JCRC Director of Synagogue Organizing Rachie Lewis, and St. John – St. Paul Catholic Collaborative's Kelly Meraw.
Rav Hazzan Aliza Berger was ordained as both a rabbi and as a cantor at Hebrew College in the spring of 2017. Ever since, she has served on the clergy team at Temple Emanuel in Newton and loves her work engaging teens, young adults, and community members of all ages. She loves JCRC and has been an active volunteer since the spring of 2018 when she started visiting immigrant detainees at Suffolk County Jail. Along with 170 Temple Emanuel volunteers, Aliza has been actively supporting two families from Afghanistan and is deeply grateful JCRC for helping to organize so many communities and making it possible for all of us to do our part to make a difference.
JCRC Director of Synagogue Organizing Rachie Lewis has worked to engage synagogues in campaigns focused on gun violence prevention, affordable housing and increasing investment in renewable energy. More recently, she has been working to engage our community to support and accompany with our immigrant neighbors. Rachie is heartened by the creativity and dedication that so many in our Jewish community have displayed as this work has developed, across denominations and generations. She is an alumna of the AVODAH Service Corps and the Jewish Organizing Fellowship. In her spare time she enjoys playing trombone in her community brass band and writing mystery novels as commentary on the dynamics of the American Jewish community.
Kelly Meraw is the Director of Music, Liturgy and Pastoral Care at St. John – St. Paul Catholic Collaborative in Wellesley, Massachusetts. She holds a Masters Degree from McGill University. In her ministry she oversees the faith enrichment and service opportunities in two thriving parishes, as well as leading small groups and bereavement ministries. Kelly is a founding member of Women of Faith Wellesley, an interdenominational group of practicing faithful women. Kelly is also proud spokesperson for Discerning Deacons, a movement dedicated to advancing the conversation surrounding restoring women to the ordained Diaconate in the Catholic Church. She is invigorated by aligning faith with action and living a radical hospitality in accordance with Catholic Social Teaching.
JCRC Webinar: Our Community's Afghan Resettlement Work – Thursday, February 3 at 12:00pm