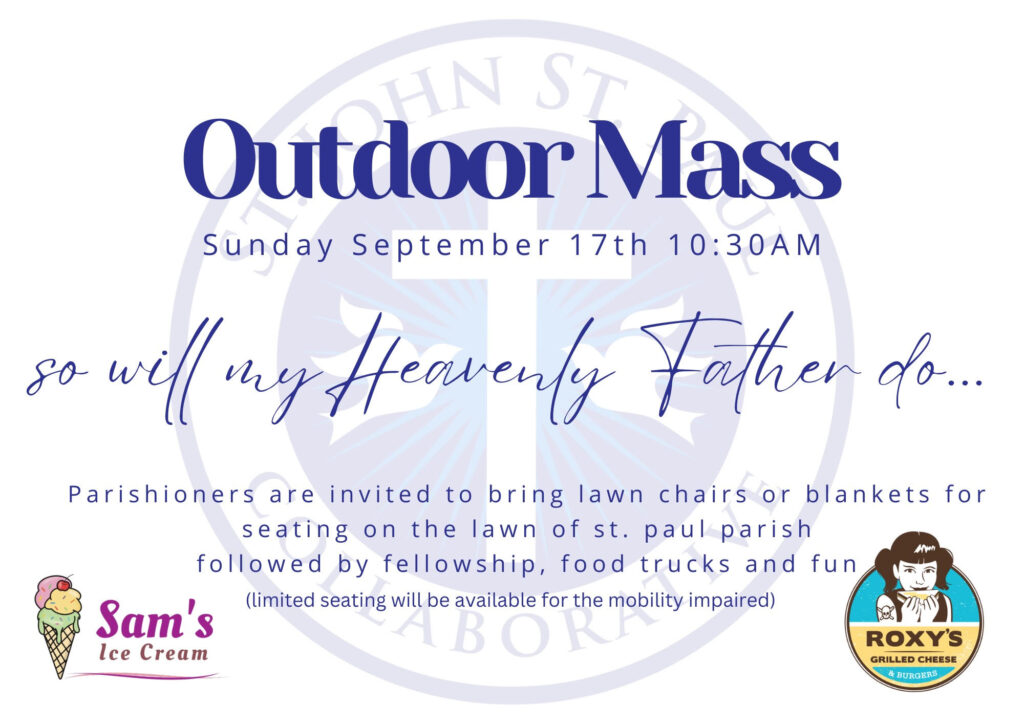 Please join us as we gather together as a community on the expansive lawn in front of St. Paul Church to celebrate our first Collaborative Outdoor Mass since 2019.
We will put to good use everything we learned celebrating Masses outside during the pandemic (and all the sound equipment we acquired!) to recreate what Fr. Jim calls "our own Tanglewood East!"
Parishioners are invited to bring lawn chairs or blankets for seating.
A section of chairs will be set up and available for those who require them due to mobility issues.
We ask all others to please bring their own lawn chairs/blankets for seating.
After Mass, please join us in the parking lot behind the church for fellowship, food, and fun!
WE WILL HAVE A REDUCED MASS SCHEDULE ON SEPTEMBER 16-17:
SATURDAY:
4:00pm Vigil Mass at St. Paul
5:00pm Vigil Mass at St. John
SUNDAY:
10:30am Collaborative Outdoor Mass at St. Paul
(this will be the only Mass celebrated on Sunday)
If rain is in the forecast, we will revert to our regular 3rd Sunday of the month schedule. A decision will be made and announced on our website and via email by 12noon on Saturday – if you are not signed up to receive our emails please sign up today!
NO RAIN IN THE FORECAST FOR SUNDAY – SEE YOU AT THE OUTDOOR MASS!

PARKING:
The St. Paul Parking Lot on Atwood Street will be reserved for Handicap Permit Parking ONLY.
Off-street parking is available in the Wellesley Council on Aging parking lot and just down the street in the Library and Cameron Street parking lots.
Street parking is available in marked spots on Washington Street and on Atwood Street.
When parking on Atwood Street and other residential streets please be respectful of our neighbors. Do not block driveways or park in "No Parking" areas, and be mindful of the need for emergency vehicles to pass.
Our Collaborative Outdoor Mass is this Sunday, September 17 at 10:30am on the Lawn at St. Paul