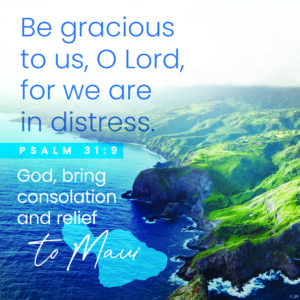 The images and news reports coming out of the Island of Maui are heartbreaking. The wildfires have killed more than 100 people, left many injured and missing, and destroyed homes and businesses.
Pope Francis has expressed his solidarity with the people of Maui including all suffering from this tragedy, while also invoking God's blessing of "strength and peace."

Recognizing the immediate and growing need for assistance, Cardinal Seán has asked that a special collection be taken in all parishes in the Archdiocese of Boston to support Church relief efforts in the Diocese of Honolulu. Funds raised will support the Hawaii Catholic Community Foundation (HCCF) relief efforts for local community members affected by the Maui wildfires.
Our collection will take place on the weekend of August 26-27. Please address checks to your parish (St. John or St. Paul) with "Maui Relief" in the memo.
On behalf of the Cardinal, thank you for your attentiveness to this important collection and expression of our solidarity with those who are suffering.
August 26-27: Special Collection for Maui Relief