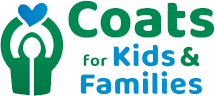 Drop Off in the St. John Rectory Garage
As the weather gets cooler we are once again having our Coats for Kids & Families coat collection:
All winter coats – kids, adults and babies – that are warm winter coats in good, wearable condition.
Please donate coats you would give a friend to wear. Do not donate coats that have rips/tears, broken zippers and/or permanent stains and please be sure to empty out all pockets.
Our Annual "Coats for Kids and Families" Collection is This Weekend, November 12-13!