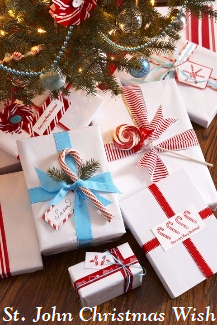 We are happy to extend an invitation to participate in this year's St. John Christmas Wish Program. The Christmas Wish Program has been one of the highlights of St. John's holiday outreach since 1993. This Christmas, we hope to grant the special wishes for more than 400 children based upon the caring generosity of our parish community.
Each child is provided with a new outfit of clothing and a special Christmas Wish gift they have requested. These gifts will go to the youngsters in our own parishes, as well as in our sister parishes of St. Katherine Drexel in Roxbury, St. Patrick in Lowell, St. Patrick in Brockton and the Julie Family Learning Program in Boston.
If you are able to help make Christmas Wishes come true this year, please visit our Christmas Wish SignUp page to sign-up to sponsor a child/family. If you find your family needs assistance this holiday season, you are invited to complete a confidential applicant form (look for this form in the parish mailing coming in the next couple of weeks).
Questions? Please contact Chrissy Cassa (chrissy.cassa1358 @gmail.com) or Sarah Connolly at the Parish Office (sarah.connolly@stjohnwellesley.org).
We are so grateful to our sponsors, donors and volunteers. Your gifts will make a difference in the life of a child this Christmas.
St. John Christmas Wish 2022