This is the second installment in our series featuring our guest celebrants, to help you learn a little bit about them and put faces with names!
Fr. Borja Miró Madariaga S.J.
Fr. Borja was ordained to the priesthood this past June in Spain. Born in Bilbao, Spain to a Catholic family, Fr. Borja joined the Society of Jesus in September 2012, and is currently at Boston College studying Moral Theology.
In an interview prior to his ordination, Fr. Borja was asked what a 21st century priesthood should be like (translated from the Spanish):
"For me the priesthood is the way that the Lord has chosen for me as a servant of his people. No more no less…
"I feel that my priesthood, in the 21st century, is called to be exercised just as Saint Ignatius wisely pointed out in the Formula of the Institute. It is only necessary to return to this again and again: to bring the people closer to God through the ministry of the word, the spiritual exercises and the sacraments. And everything else, being able to be holy and good, 'as it seems convenient for the glory of God and the common good.' "
Fr. Charles R. Gallagher, S.J.
Fr. Gallagher, son of the late Gordon and Juliette Gallagher, grew up in Binghamton, NY and on Nantucket Island with two brothers and a sister. He is currently an Associate Professor of History at Boston College.
From 2009-2010, he was at the Geneva School of Diplomacy and International Relations, where he was a visiting fellow, teaching undergraduate and doctoral courses on religion and international relations. Prior to that, he taught in the History Department at the College of the Holy Cross for several years. His scholarly interests include American Catholicism, papal diplomacy, international relations, the Holocaust, and intelligence history.
In 2008, he published Vatican Secret Diplomacy: Joseph P. Hurley and Pope Pius XII , which won the John Gilmary Shea Prize from the American Catholic historical Association. His latest book, Nazis of Copley Square: The Forgotten Story of the Christian Front was published in 2021.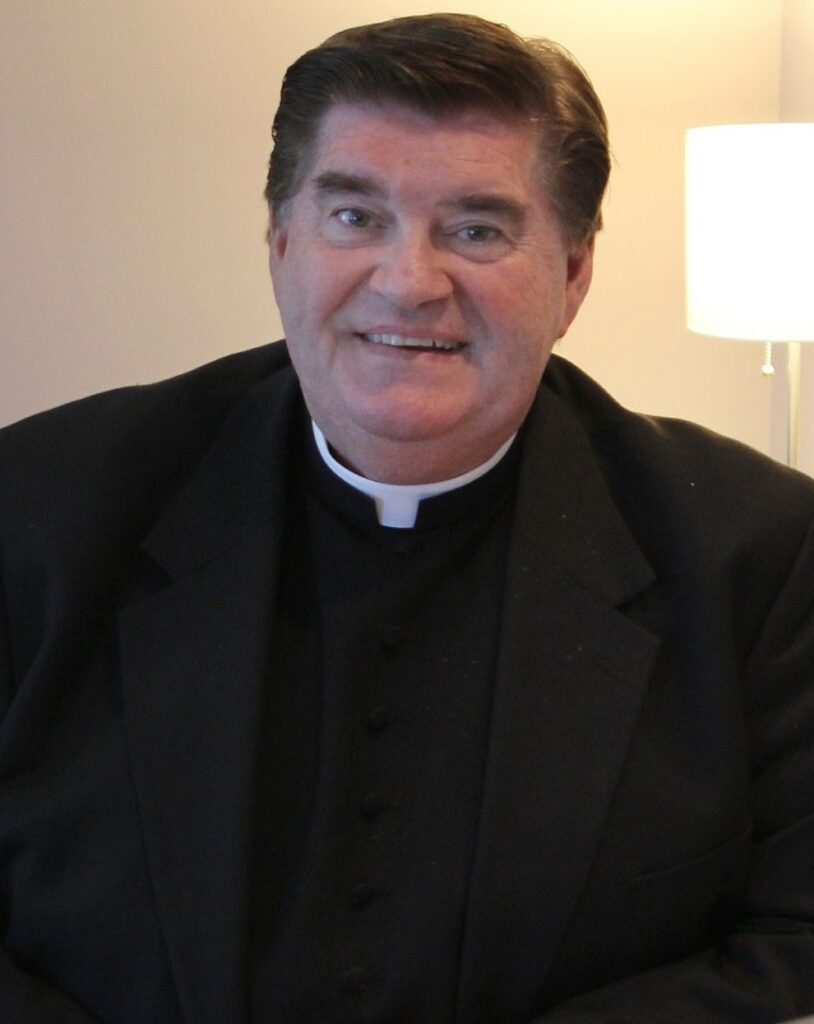 Fr. Michael Steele
Fr. Steele, son of the late Ernest and Mary (O'Shea) Steele is a Senior Priest of the Archdiocese of Boston. Fr. Steele grew up in Saugus, MA with a brother and a sister, and received degrees from Merrimack College and the University of San Francisco before entering St. John's Seminary. He was ordained in 1977.
After serving in several parishes, Fr. Steele was appointed by the Cardinal to the Superintendent's Office of Education as the Director of Religious Education for Schools from 1983 to 1995. He went on to serve as pastor in a number of parishes in the Archdiocese, where he made it his mission to nurture young people and their families as the backbone of the parish.
In 2019, after 14 years as pastor of Our Lady Star of the Sea in Marblehead, Fr. Steele was quoted in a local news article saying that what spurs him on is "a zest for the gospel, and a calling for others to give reach to the gospel. I have a desire for family liturgy… we have to ask ourselves 'how are we doing the work of God?'"
If you missed last week's profiles of Fr. Richard Clifford, S.J., Fr. Joseph Hennessey, and Fr. Brett O'Neil, S.J., you can find them here: Getting to Know Our Guest Celebrants
Getting to Know Our Guest Celebrants, Part II