Fr. Jim has asked us to let you know, once again, how incredibly grateful he is for your prayers and support, and how much all your cards and notes mean to him.
(Cards and notes should continue to be sent to the St. John Rectory [9 Glen Road, Wellesley, MA 02481] or dropped in the basket in the St. John Rectory vestibule or at either parish office, and they will be delivered to him.)
He is pleased to report that he is progressing well and has now moved into the rehabilitation phase of his recovery. He knows it will be a long road and a lot of hard work, but he is taking it one day at a time and is encouraged by his progress.
Fr. Jim requests that folks continue to rely on the regular updates provided by the Collaborative, rather than texting or calling him directly, so he can focus all his energy on this important stage of his recovery. (Updates will continue to be provided via email and will appear in the bulletin and on the website. If you're not receiving emails from us, please visit the website and check the Join Our Email List link.)
Your prayers for his complete and speedy recovery and return to us are still the best way to support him at this time. He will continue to let us know how we can best support him through every stage of his recovery.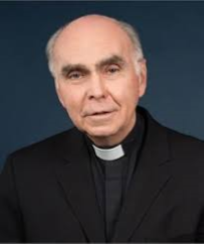 While Fr. Jim is away from the Collaborative, the Archdiocese of Boston has given Fr. Bryan Hehir the authority to handle the administrative functions of the parishes, allowing Fr. Jim to focus on his recovery. Fr. Jim will, of course, continue to be in contact with Fr. Hehir and the Collaborative staff, providing input and guidance as we navigate through the days and weeks ahead.
As you know, our current Summer Weekend and Weekday Mass schedules remain in place. In the event that we are unable to secure a celebrant for a Weekday Mass, a Liturgy of the Word with Distribution of Holy Communion will take place. Whenever possible, we will update the calendar on the website to let you know in advance, but please know that during this time there may be last minute changes, and we thank you in advance for your patience and understanding. (A list of area parishes and their Weekday Mass schedules can be found under the Liturgy tab on our website.)
Our parish offices remain open and our Collaborative Staff are here for you – please do not hesitate to reach out as needed!
We thank you for your prayers, concern, and support for Fr. Jim and our Collaborative!
St. John-St. Paul Collaborative Staff
Friday, June 17: Fr. Jim Update