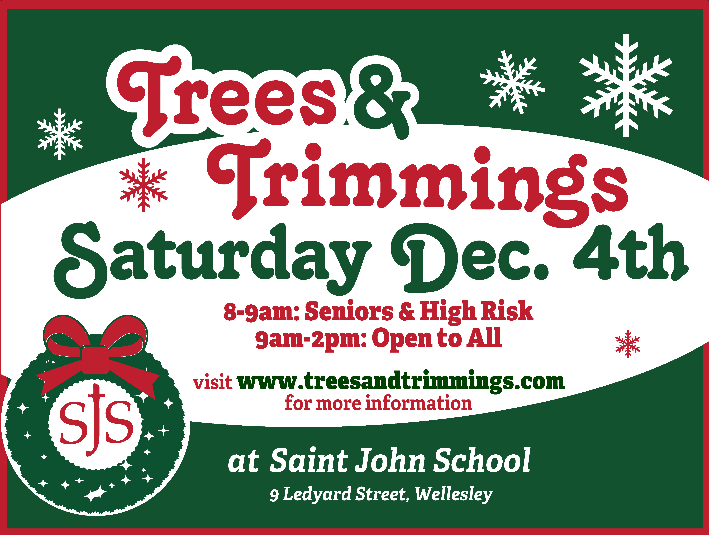 At Saint John School's Trees & Trimmings Christmas Market, the SJS Community comes together outside to sell semi-custom decorated wreaths, greenery, Christmas trees and boxwoods to our school, church and local community.
Online, we also have a toy raffle with the hottest toys, a calendar raffle, an opportunity to purchase wreaths (simple and decorated) & greens early, and more. All available online now.
All of the money raised goes toward supporting our beloved Saint John School, its students, activities and operating costs.
Thank you, in advance, for your support!
2021 SJS Trees & Trimmings Additional Offerings Include:
EARLY ACCESS WREATHS & GREENS SALE IS ONLINE NOW UNTIL SUPPLIES LAST AT www.treesandtrimmings.com/presale
Items online include wreaths, mantle pieces, roping and semi-custom decorated wreath options
Items will be also onsite on December 4th, but for those who will not be purchasing a tree, it is an easy way to avoid the Saturday crowd (and avoid the weather if it is anything like last year). 
All pre-sale items should be picked up curbside on the afternoon of December 3rd.  (If you order an Advent Wreath, we will coordinate pick-up on Tuesday, November 23rd so you will have for the first Sunday of Advent).
CALENDAR RAFFLE TICKETS ARE AVAILABLE ONLINE NOW UNTIL DECEMBER 2nd AT www.treesandtrimmings.com/calendar-raffle
Tickets are only $10 each and cash prizes range from $50 to $300.Winners drawn each school day until Dec. 3rd.
Tickets may be purchased anytime from now until December 2nd, but the sooner you purchase a ticket,
the greater your chances are to win.
TOY RAFFLE: TICKETS ARE AVAILABLE ONLINE NOW UNTIL DECEMBER 4th AT www.treesandtrimmings.com/toy-raffle-shop
The Trees & Trimmings Toy Raffle and catalog of items are all online and ONLY $1 EACH!
Prizes include: a Nike Apple watch, three different scooters for multiple age groups, a camera, a GoPro Hero10, LOL Surprise Movie Magic Studios, Dance Mat, Ipad, Trampoline and more!
Purchase tickets until noon on December 4th, winners will be announced that evening online via ZOOM.
Pick-up will be available for your winning items from December 5-10th.
PLEASE HELP US STOCK SANTA'S BAKESHOP
Visit WWW.TREESANDTRIMMINGS.COM for more information.
For questions, please contact us at treesandtrimmings@saintjohnschool.net.
Thank you for supporting the 2021 SJS Trees & Trimmings Christmas Market!
Saint John School "Trees & Trimmings" Christmas Market