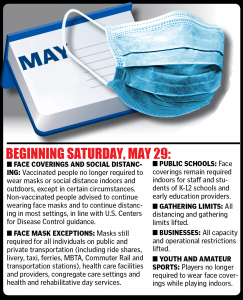 As you know, the Commonwealth of Massachusetts is lifting many of the current COVID-19 restrictions on Saturday, May 29. In response, the Archdiocese of Boston has issued new archdiocesan protocols to help guide pastors, staff, and parish leadership in how to best implement these changes in their own parishes. We want to share with you how these changes will begin to be implemented in our parishes.
As of May 29, fully vaccinated individuals are no longer required to wear masks or to socially distance in most indoor and outdoor settings in Massachusetts. The State does advise that non-vaccinated people continue to wear masks in indoor settings.
Different people will be able/ready to take off their masks and sit near one another at different times. To accommodate everyone, we have designated sections of each church for general seating and for masked/socially-distanced seating (please refer to the diagrams below for the locations of these sections in each church.)
In the general seating sections, all pews are available for seating without social-distancing, and masks are optional.
In the socially-distanced seating sections, pews will continue to be marked as green (available for socially-distanced seating) or red (not available) and parishioners are asked to wear masks and sit only in green pews, at least 6 feet from anyone not in their own households.
For everyone's comfort, socially-distanced gestures of peace are still encouraged.
We will return to a procession for the distribution of communion.
Beginning Sunday, June 27, the Sunday 5:00pm Mass will be celebrated outdoors on the lawn at St. Paul Church.
All Masses (except the outdoor Mass) will continue to be streamed live on our website and YouTube channel, and a recorded Mass will be available every Sunday on our website.
We understand that the pace of these changes will likely seem too fast for some and too slow for others, and we ask for your continued patience and understanding. Please know that the health, well-being, and spiritual needs of our parishioners will always be at the forefront in our decision-making as we continue to navigate through this process.
Updated Guidance & Practice for Our Parishes Effective 5/29/2021