Last week, we introduced the St. John-St. Paul POWIR Ministry Fund as the recipient of our 2021 Lenten Gift. The POWIR (Parishes Organized to Welcome Immigrants and Refugees) program is an initiative we began in the fall of 2019, with the help of Catholic Charities, to support refugee families. This week, we want to share the story of the Rwamuhinda family, the first family that we have supported from their initial arrival in this country.
Almost exactly one year ago, we were overjoyed to learn that we would soon be welcoming the Rwamuhinda family from a refugee camp in Rwanda, where they had spent the last 13 years after fleeing the Democratic Republic of Congo. Our POWIR team immediately sprang into action to organize lists of what the family would need upon arrival – everything from furniture to clothes to kitchen items – and presented the needs at that weekend's Masses. By the last Mass on Sunday, every item on the list was spoken for thanks to the generosity of our wonderful faith community.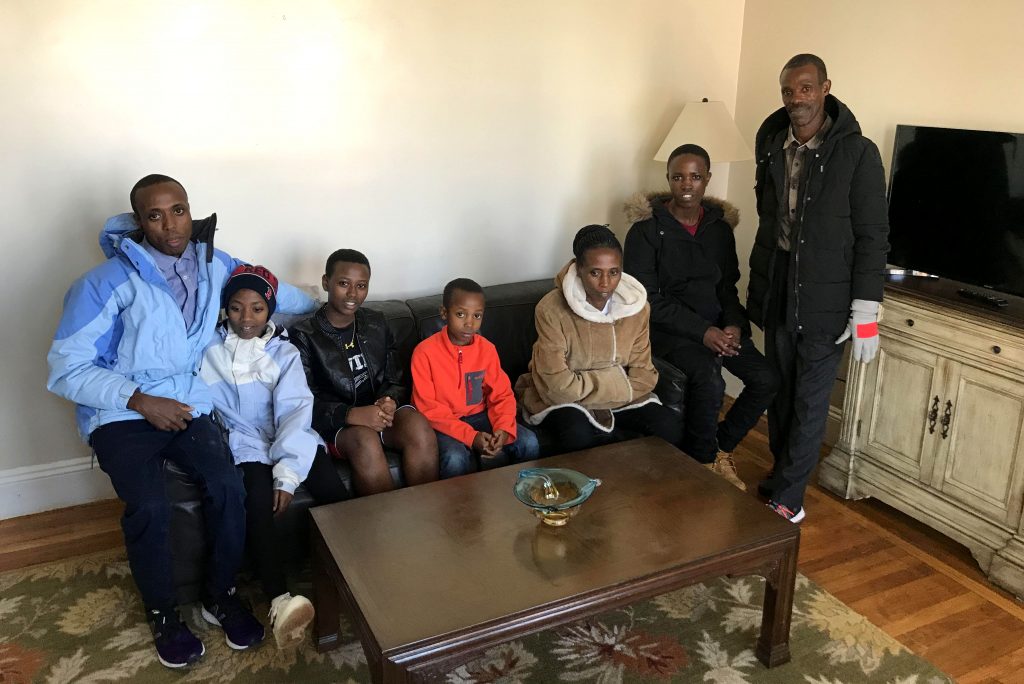 Emile and Rosine and five of their children landed at Logan Airport on March 18, 2020 on one of the last arriving flights before international travel was halted. After a two week stay in a temporary furnished apartment, the family was able to move into their own 3-bedroom apartment in Revere, fully furnished with your generous donations. Despite the challenges posed by the pandemic restrictions, support from McCabe and Logan Moving and Storage allowed a small team from our Collaborative to complete the move-in and set-up of the apartment in one day. It was truly amazing that they were able to enter our country at this difficult time, and it was a tremendous relief to them to have escaped the terror and deprivation of the previous years.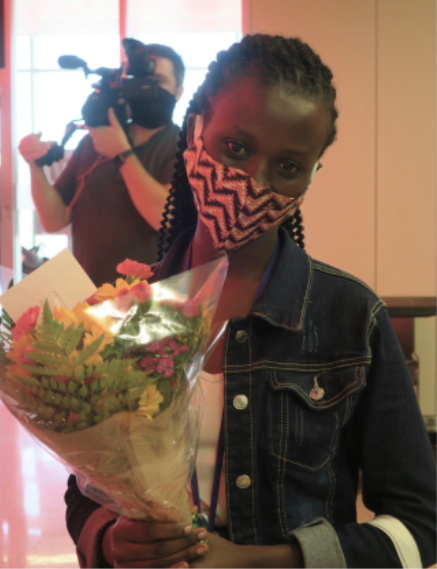 Their relief was complete in August when their eldest daughter, Peace, who had remained at the refugee camp in Rwanda, finally arrived in Boston. Peace is 21 years old and had lived alone in the refugee camp in Rwanda since early March when her family was finally able (after a 13 year wait) to resettle in the United States. We can only imagine the heartbreak that these parents must have experienced, leaving behind their eldest daughter. This young lady has an unbelievable amount of strength and resilience in the face of massive obstacles. She is an inspiration to us all and we are so grateful to God that this family is together again.
Volunteers from the Collaborative have been working with the family on an ongoing basis, both via Zoom and in-person when circumstances allow, to support the children in their school programs, the adults in their job searches, and everyone with their English language learning. They are beginning to flourish in their new environment, and are now able to pay their rent and other expenses themselves within a budget framework we have helped them develop. They are enormously grateful for all the support we have given them.
We are sharing this experience with the Rwamuhinda family as an example of the work we hope to continue to do with other families as new opportunities arise. Our Lenten Gift is intended to provide the financial resources needed to undertake this continuing work. We hope you agree that this is a most worthy cause and ask that you support it as generously as your means will allow.
While the collection will be taken up in both churches on the weekend of March 20-21, we are expanding the opportunity to give to include the whole Lenten season. You may do so at any time by making an online donation or by sending a check to your parish office. Please mention in the memo section that the check is for the 2021 Lenten Gift. Thank you very much.
To learn more about our 2021 Lenten Gift for the POWIR Ministry Fund, please visit our 2021 Collaborative Lenten Gift page.
Our Lenten Gift Story Week 2: The Rwamuhinda Family