Here's a personal experience of a parishioner in our Collaborative, who is thinking globally and acting locally, helping our environment. Laudato Si` invites us to look at ways we put into action Care of our Common Home simply by starting in our own home.
Solar Panels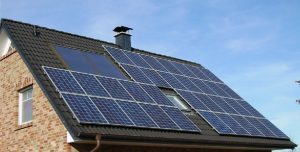 A number of years ago my wife suggested we should look into having Solar Panels installed on our roof. I thought that since it is just the two of us, we do not use that much electricity and that it would not pay to do it. Some time later the town of Wellesley held a meeting at the library that was being sponsored by a company that the Town had vetted. We attended and I was pleasantly surprised by their presentation. They said that the entire cost would pay for itself in six years. It turns out that the system paid for itself in about 5 years with rebates and the sale of excess electricity to the grid. Now our monthly electric bill is less than $10. In addition, we are now receiving about $1,100 each year by selling electricity to the grid.
My wife and I live in a small house. We have only 1 TV, central air conditioning, gas for heat and hot water. Before installation the contractor made sure we have a south facing roof in good condition. They got the building permits and we have 30 year guarantee. The cost of the 18 solar panels and installation was about $9,000 after Federal, State and Local rebates.
Currently the Solar company is marketing a battery backup which can be used in the event of a prolonged power failure. We are very pleased with the decision we made and we are doing a small part to save our planet.
We would love to hear from you! Please email your ideas, or suggestions on what you are doing to help Care of our Common Home.
Deb Egan: egand165@gmail.com
Barbara Pyles: bcpyles3@gmail.com
Caring for Our Common Home: A Personal Experience