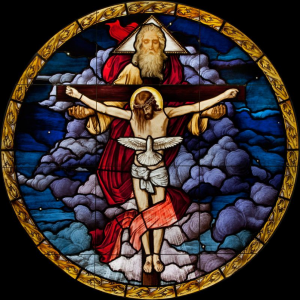 I pray not only for them, but also for those who will believe in me through their word, so that they may all be one, as you, Father, are in me and I in you, that they also may be in us, that the world may believe that you sent me.  And I have given them the glory you gave me, so that they may be one, as we are one, I in them and you in me, that they may be brought to perfection as one, that the world may know that you sent me, and that you loved them even as you loved me.
(Jn 17:20-23)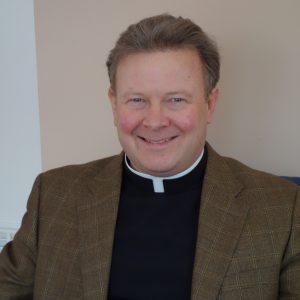 I can't celebrate Trinity Sunday without thinking of our beloved Fr. Connelly.  Having retired as pastor of Sacred Heart Parish in Newton at the age of 90, he has been our senior priest in residence for the last seven years and what a blessing he has been to all of us!  You see, back in the late 1980s, Fr. Connelly taught the theology of the Holy Trinity to my classmates and me as he had to generations of seminarians before us.  I am hesitant to wade into the treacherous waters of Trinitarian theology with such an august scholar in my own household.  The language used to describe the relationship among the three persons of the Blessed Trinity can be mind-bending.  How do you describe God, a Trinity of persons, without getting in over your head?  Even the greatest scholars would acknowledge that we are using words to describe what remains to us a mystery.  We can never fully understand God.
We can gain some insight into the mystery of the Trinity by thinking of it as a relationship of love within the Godhead.  Furthermore, the Triune God dwells within us as believers and our relationship with each other is meant to reflect the love and unity of the Trinity.  This has great implications for how we see each other.  Do we truly see each person as made in the image and likeness of God?  Do we see the Triune God dwelling in each person we encounter?
More than 30 years ago, my sister, then a college senior, told me that she was going to have a baby.  In 1985, this was a crisis for her, my parents and our whole family.  The father of the baby, who would later become her husband, was African American.  My sister never doubted the preciousness of the child in her womb and there was no question that her child, despite the challenges, would be embraced as a gift from God.  During her pregnancy, she was shopping with a friend at a local suburban shopping mall.  They were looking for a restroom when they came upon a clerk at one of the stores.  He invited them to use the restroom in the store.  As he said, "You don't want to use the public restroom.  That the one all the ni—ers use."  With one vicious word, the precious child within my sister's womb, the one she cherished, who was part of her, had been reduced to…the N word.  And that is exactly what we witnessed as George Floyd was murdered before our eyes.  George Floyd, a man made in the image and likeness of God, was reduced… to the N word.
I cannot pretend to understand the anguish and pain of our brothers and sisters of color in this excruciating moment of reckoning in our national psyche.  Odessa Sanchez, a beloved member of our collaborative and an African American woman, has shared some of her own reflections that you can find in the bulletin and on our website and blog.  Let's listen to her words with hearts open to learning from the experience of another.  No one of us can eliminate the scourge of racism and hatred from our society.  But we can, by all we say and all we do, stand for the inherent dignity of each human person as made in the image and likeness of God.  We can, by our lives as faithful disciples of Jesus, bring a bit more light and a bit more love into the world.  With this begins the healing.  As Dr. Martin Luther King so poignantly said,
Darkness cannot drive out darkness; only light can do that. Hate cannot drive out hate; only love can do that.
Yours in Christ,
Fr. Jim
June 7: A Message from Fr. Jim on Trinity Sunday