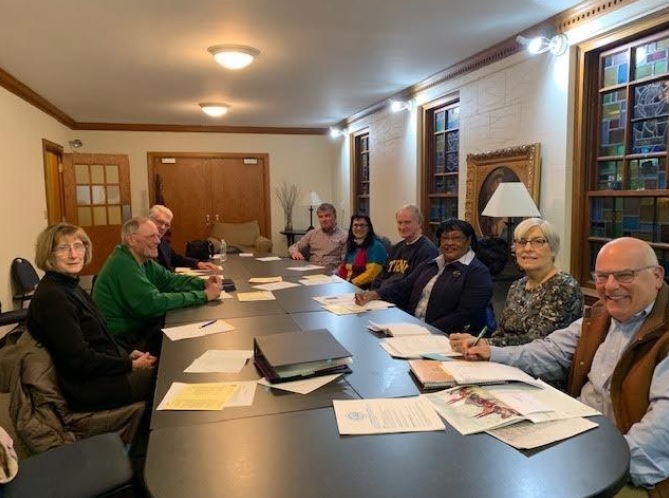 Over the past few weeks, we've introduced you to the Society of St. Vincent de Paul and to the recently formed Conference established by parishioners from St. John and St. Paul parishes. Our new Collaborative Service Commission has chosen the Conference as the recipient of this year's Lenten Gift, providing a fitting opportunity for our two parishes to come together during this Lenten season to help launch the conference with a sound financial base.
Many of us might assume that there would not be a significant need for personal or financial assistance in the affluent communities of Wellesley and the part of Newton that make up the Collaborative. This is most emphatically not the case. You might be surprised and disturbed by the struggles that many of our neighbors face in paying for utilities, rent, medicine – even for food for themselves and their children. The Society offers tangible assistance to those in need on a person-to-person basis, and it is this personalized involvement that makes the work of the Society unique. When assistance is requested, two members of the Society, called "Vincentians", make a home visit. Home visits allow Vincentians to provide emotional and spiritual support to our neighbors in need, as well as an opportunity to better understand their individual circumstances, struggles, and needs. After the visit, the case is presented to the Conference so a determination can be made as to the assistance provided, which can include both monetary and in-kind support, through gifts of food, furniture, etc. (The high degree of confidentiality that SVdP strictly observes makes it impossible to give more specific examples of the types of requests our conference has received so far.)
The Lenten Gift collection will be taken up at all Masses in both parishes on the weekend of April 6-7.  Please make checks payable to your parish ("St. John Parish" or "St. Paul Parish"), noting "Lenten Gift 2019" in the memo. Special collection envelopes will be available in the pews and at the back of the churches.  Gifts may also be made online, or mailed to/dropped at either parish office.  We will total funds received from all sources and present one check to the SJSP Conference of St. Vincent de Paul.
The three Lenten disciplines recommended by the Church are prayer, fasting, and almsgiving. This is our opportunity as a Collaborative to show Christ-like love for our neighbors in distress, and for each of us to share in easing the suffering and to answer Lent's clarion call to love extravagantly. We ask that you be as generous as your means will allow. Thank you.