We started a little later today and had small group sessions where we talked about our highs and lows, and moments on the pilgrimage where we have felt God's presence in a new or deeper way. It is good to be reflecting on these things as we go because otherwise the whole week can seem like a whirlwind of activity and emotion. Many of the pilgrims have had deeply spiritual experiences already and as we get to know each other better and build up more trust in our relationships it is easier to share these personal moments.
We had Mass in the conference room in the hotel today. It felt good to be staying in one place for the morning.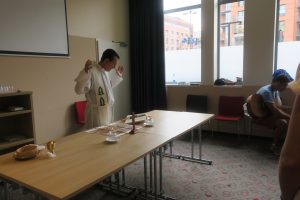 After Mass we set off for the Papal arrival in Blonia Park which is a 3 mile walk from our hotel.
On the way we stopped to pick up lunch and some more food for later. There are food stations all around the city and we have food vouchers to use each day.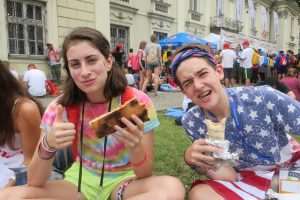 After lunch pilgrims started to walk from the Centre of the city toward Blonia Park. The streets were full of young people from every country singing and chanting as they walked.
The people of Kraków are so welcoming and delighted for us to be together in their city. This couple sat in the park literally watching the world go by as thousand of young people walked past them on their way to meet the Pope.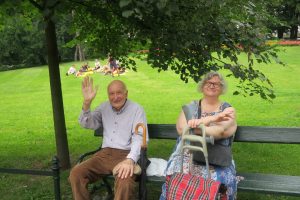 The park was organized into sections with different gates to get in. It was all very secure and incredibly well thought out with thousands of people moving easily into their allotted areas.
It really is an incredible sight and sound to see and hear so many people together at one time and especially because it is such a joyful crowd.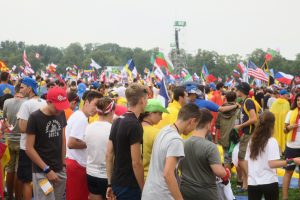 Waiting for Pope Francis was a good opportunity to take group photos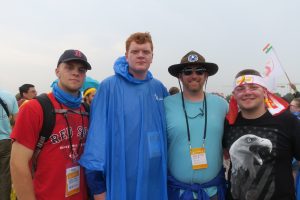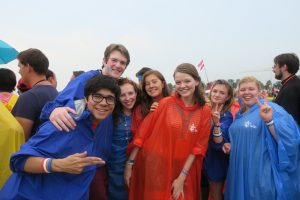 And meet Pilgrims from other countries and trade hats, bracelets, bandanas and flags with them.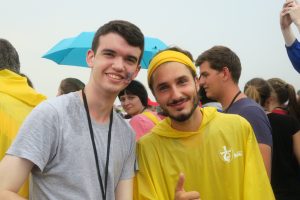 The Pope passed quite near to us in the "popemobile" or as they call it in Poland the Papamobile, and then he moved to the huge stage which has been erected in the park. There were many screens to watch if you were far away.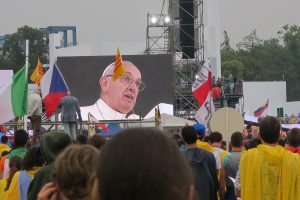 Pope Francis spoke in Italian and some of us had radios which we could use to listen in English. Others stood next to Italians who translated for them. Praying with the Pope with so many faith-filled people is a moving experience.
After the Pope spoke to us there was a concert on the stage which was perfect as it meant that some people stayed and listened for a while instead of everyone trying to leave at once. That left us time for more photos.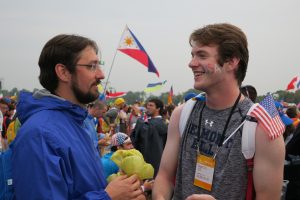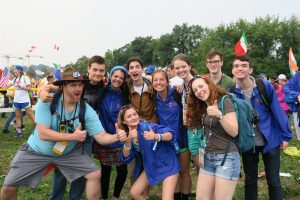 Including a group photo with all of us and Fr. Tom's group.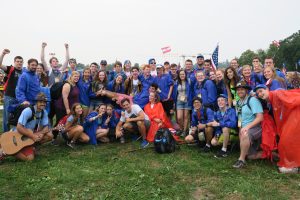 We left the field walking together but especially keeping with our small groups.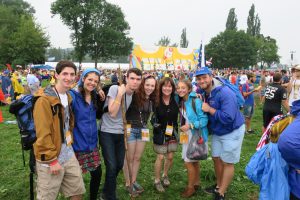 When the crowd gets dense we form a line and hang on to each other's backpacks in our small group to avoid getting separated. We didn't have to do this much today as the crowd was moving pretty freely due to the impressive organization here in Poland.
After walking home some of us got food and others went straight to bed. We have another early start in the morning.