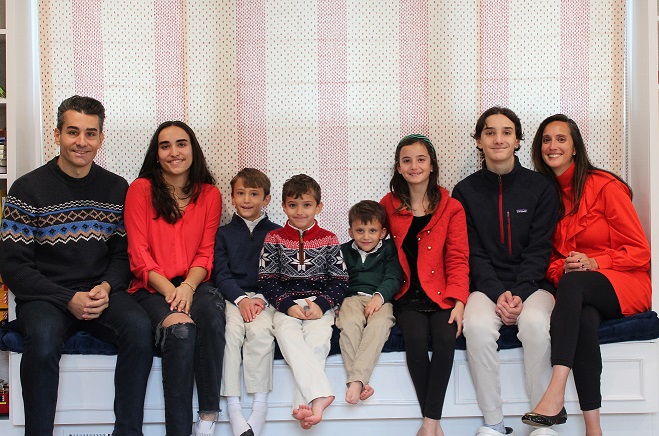 My name is Luke DelVecchio, and along with Jimmy Hastings, I have been working in youth ministry for 21 years in Wellesley. It has been a most rewarding experience. There have been many moments of great joy working in youth ministry.
One of the aspects I enjoy most about my role within the St John-St Paul Collaborative is "walking with" and "guiding" our young people in their faith journey. Naturally, this is what makes an event like World Youth Day so special, as the pilgrimage experience from beginning to end is all about "traveling" together.
This will be my eighth World Youth Day experience (Rome '00, Toronto '02, Cologne '05, Sydney '08, Madrid '11, Rio de Janeiro '13, Krakow '16, and now Lisbon '23). With each experience, I have discovered a greater sense of depth, meaning and purpose. Certainly, I am able to appreciate the beauty and history of each host city, and the event itself; but it is the witness of the young people that I find truly moving. It is a tremendous blessing to step back and watch our young people become transformed with awe as they experience Christ and His Church; a truly universal and far reaching Church of all colors, nations and tongues!
During my time as a youth minister, I have been blessed with tremendous growth in my personal life. I graduated from Babson College in 2004, married my wife Zemira in 2006, and welcomed six children into the world. The oldest (Agnese) will be traveling with our group, which of course makes this particular World Youth Day extra special. Simply put; nothing gives me greater joy than to be a husband to my wife and a father to my children. God has abundantly blessed my life in virtually every way imaginable. I am humbled, and pray that I am able to meet the daily challenge of such awesome responsibility.
This summer in Lisbon a group of 14 people will be representing St Paul and St John in Wellesley Massachusetts. I am grateful to be counted among them. Be assured of our mindfulness of our community (you), and count on our prayers as we celebrate mass, walk and talk with fellow pilgrims from all nations, and experience Catholic Church in an incredibly unique way!
Please consider sponsoring me and supporting this pilgrimage with your donations and your prayers.