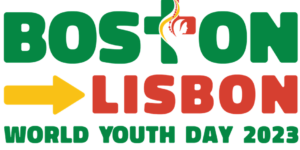 Last weekend we participated in an event for all pilgrims traveling to WYD Lisbon with the Archdiocese of Boston – a group of more than 200 people. It was an extraordinary opportunity to experience the joy, excitement, and enthusiasm of those preparing to make this pilgrimage with us!
In addition to winning the WYD Trivia Contest led by Chris Donoghue, Evangelization Consultant with the Secretariat for Evangelization and Discipleship, our group demonstrated that they are most likely to break out in song – and dance!
We were moved by the Spirit – literally!
WYD 2023 Update: 33 Days to Go!