Cardinal Seán O'Malley has alerted every parish in the Diocese regarding our readiness to assist in an ever-expanding immigration crisis beyond the state's capacity to respond effectively. Immigrants arriving daily in Massachusetts are in need of basic shelter, compassionate care and welcome.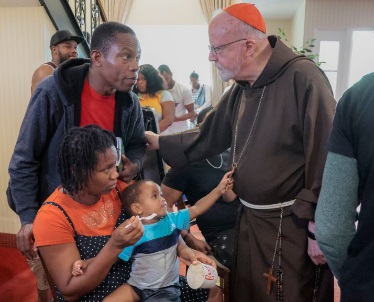 In requesting our help, the Cardinal noted,
"I offer this invitation in the spirit of Pope Francis who has asked us as Catholics to watch the "peripheries" of society where suffering is located. In our time, migrants and refugees are among the most vulnerable individuals and families in the United States. It is my hope and desire that as a Church we respond generously and effectively."
The Cardinal's letter is posted here on our website in its entirety, and all parishioners are encouraged to take time to read it.
To help make it easier for our parishioners to participate in responding to this critical need, our Collaborative Service Commission has set up "Welcoming the Stranger" donation lines in both churches. Attached to the lines are individual cards listing specific items of clothing, toiletries, and personal care needs.
At Mass this weekend, please pick out and take cards for as many items as you'd like to contribute – the cards serve as a reminder of your commitment to welcoming the stranger.
If you miss the chance to pick out specific cards this weekend, know that all items listed below will be welcomed – thank you for your generosity in helping to meet the critical needs of our new neighbors:
Clothing items for all ages and sizes, infant through adult:
NEW or GENTLY USED: winter coats, boots, and gloves; warm clothing (pants, long sleeved shirts, sweatshirts, etc.)
NEW Only: winter hats and warm socks
Toiletry and personal care items:
NEW Only: diapers (all sizes); feminine hygiene products; toothbrushes (adult and child size); toothpaste, lotions, shampoo/conditioners, soap, tissues, deodorant, mouthwash (standard sizes for all, not travel-sized, please); combs, washcloths.
Donations can be dropped off in either parish garage beginning Monday, November 6 through Friday, November 17 during the following hours:
Monday – Friday: 8AM-12PM or Saturday – Sunday: 9AM-5PM
The St. Vincent de Paul Society will be picking up the donations from parishes around the Archdiocese on November 18. They will be stored and processed at the SVdP facility in Stoughton, and then distribution will be made to those living in shelters throughout the Archdiocese.
PHOTO CREDIT: Cardinal Sean O'Malley spoke to Antoine Andrie, his wife, Dilonisa Andrie, and their daughter, 1-year-old Saieqea Andrie, during an ice cream social at the Catholic Charities Inn, the largest emergency assistance shelter run by Catholic Charities of Boston.MATTHEW J. LEE/GLOBE STAFF
"Welcoming the Stranger" – Our Collaborative Response