The St. Paul Bell Tower project was featured this week on The Swellesley Report! The post, St. Paul Church in Wellesley to bring back the ring of historic bell talks about the project and features some great photos and interesting history! The photos below were taken during the their visit to St. Paul last week, and we wanted to share them with you along with a bit of the bell's history.
The bell was donated to the church in 1926 by Salvatore DeFazio and family. According to St. Paul parishioner Tory DeFazio, Salvatore's grandson, Salvatore promised the pastor that he would donate a bell soon after the church opened in 1916. Pastor Edward Welch held him to it. "It took my grandfather about ten years to raise the money, but he did it," said DeFazio.  
As noted on this tablet in the St. Paul narthex – and in the inscription on the bell itself – the bell was blessed and put into service on December 31, 1926. Traditionally, church bells are blessed by the Bishop before being put into service. Here is a brief excerpt from the Roman Ritual:
"Let the people's faith and piety wax stronger whenever they hear its melodious peals. At its sound let all evil spirits be driven afar; let thunder and lightning, hail and storm be banished; let the power of your hand put down the evil powers of the air, causing them to tremble at the sound of this bell, and to flee at the sight of the holy cross engraved thereon … when the peal of this bell resounds in the clouds may a legion of angels stand watch over the assembly of your Church, the first-fruits of the faithful, and afford your ever-abiding protection to them in body and spirit."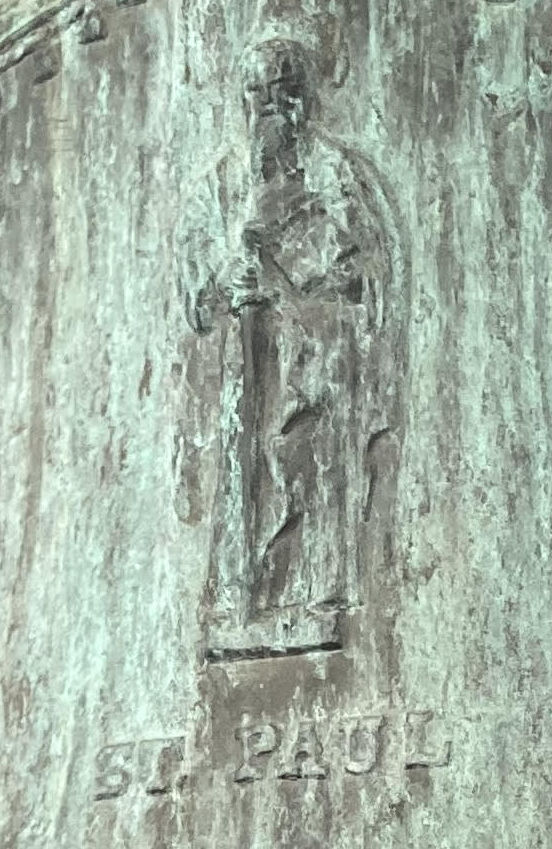 In addition to the inscription, the bell features the image of St. Paul, to whom the bell is dedicated. As you can see in the photo below, the wooden beams that support the bell are badly deteriorated from decades of absorbing the bell's reverberations.
Fr. Jim is quoted, saying, "I am thrilled that St. Paul Parish is able to undertake this important project, which is being made possible by the generosity of our wonderful community. We look forward to the day when we can proudly ring the bell at St. Paul Church once again."
To contribute now to this important project, visit the donation page on our website, use one of the reply envelopes that was mailed to all registered St. Paul parishioners (more are available at the back of both churches), or send a check to :
St. Paul Parish
Bell Tower Fund
502 Washington Street
Wellesley, MA 02482
(Please visit The Swellesley Report for the complete post.)
St. Paul Bell Tower Project in the News!