Join us Tuesday, November 5 as Kelly Meraw presents a reflection on the fascinating and inspiring life and works of a woman truly "called to be!"  We will convene in Powers Hall at 6:00pm and start the program at 6:30pm in the chapel.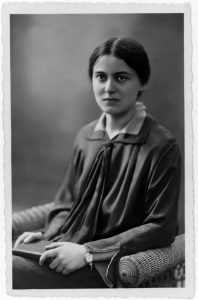 St. Teresa Benedicta of the Cross, better known as Edith Stein, was a German Jewish philosopher who after denouncing her faith, became an atheist during her teen years. Through the writings of St. Teresa of Avila, she experienced a significant conversion of heart, and was baptized into the Roman Catholic Church in 1922 at the age of 31.  She was a prolific author having notably penned, Life in a Jewish Family, Self-Portrait in Letters, Finite and Eternal Being, Philosophy of Psychology, Essays on Women and The Science of the Cross.
The rise of the Nazis in Germany closed the door on her ability to teach as she lacked an "Aryan Certificate," but it opened the opportunity for her to fulfill her calling and heartfelt desire to become a Discalced Carmelite nun. In 1942, Edith was forcefully taken from the Netherlands to Auschwitz where she was murdered in the gas chamber. In 1987, Edith was beatified by Pope John Paul II.  She was canonized eleven years later on October 11, 1998 on the basis of a miracle cure of a little girl treated at Massachusetts General Hospital!
Please bring a dish or beverage to share in a potluck supper in Powers Hall.  You are warmly invited to bring along a friend to share in the journey of "Women Called to Be".
Evening for Women Presents: "Women Called to Be"