The St. John-St.Paul Collaborative is blessed to have strong traditions of charitable outreach in each of its vibrant parishes. Over the last two years, as part of the Lenten Gift initiative, we cooperated to make a significant gift to Bahkita House to support the brave women struggling to escape the ravages of entrapment into slavery. Last year, we  contributed very generously to rebuild the Nuestros Pequenos Hermanos (NPH) facilities in Mexico that were destroyed by a massive hurricane.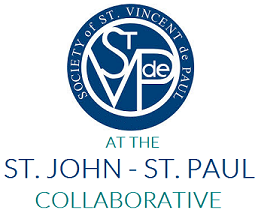 This Lent, we are joining forces for the third time to open our eyes and hearts to the plight of those who are suffering right here in our own community – and who are so often unseen in the midst of the abundance that surrounds us – and reach out to help through our newly formed St. John – St. Paul Conference of the Society of St. Vincent de Paul.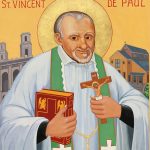 We begin with the story of The Society of St. Vincent de Paul, which operates internationally in over 4200 locations. Inspired by Gospel values, the Society leads women and men to join together to grow spiritually by offering person-to-person services to the needy and suffering, in the tradition of its founder, Blessed Frederic Ozanam, and its patron, St. Vincent de Paul.
As a reflection of the whole family of God, members, who are known as Vincentians, are drawn from every ethnic and cultural background, age group, and economic level. Organized locally in conferences, generally at the parish or university level, Vincentians witness God's love by embracing all works of charity and justice, making no distinction in those served because, in them, Vincentians see the face of Christ. Over the past year, many members of our Collaborative have come together to establish our local conference of the Society of St. Vincent de Paul.
Throughout Lent, the Collaborative Service Commission will continue to share this story with you, with weekly installments here on this website and in the bulletin, as we prepare for our collaborative-wide Special Collection on April 6-7.
Our Lenten Gift will allow each of us to share in easing the suffering and to answer Lent's clarion call to love extravagantly.  Please join with us!
About The Society of St. Vincent de Paul