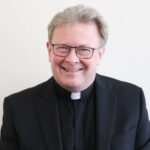 I am so happy to introduce you to Sister Colleen Gibson, SSJ, the new Coordinator of Pastoral Care for our Collaborative.
Sister Colleen, whose primary office will be at the St. Paul Rectory Offices, will work in partnership with Kelly Meraw, our Director of Pastoral Care, on adult faith formation programs, service and outreach initiatives, and coordinating sacramental liturgies and services across the Collaborative. Below is a brief introduction – I know you will join me in welcoming Sister Colleen to our Collaborative Community!
– Fr. Jim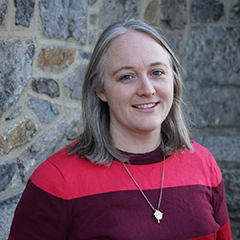 Sister Colleen Gibson, SSJ is a Sister of Saint Joseph from Philadelphia and recent graduate of the Boston College School of Theology and Ministry.
An award-winning writer, her work appears regularly in Give Us This Day and the National Catholic Reporter, where she is a columnist for Global Sisters Report. Co-host of the podcast, Beyond the Habit, Sister Colleen firmly believes that each person's story has the ability to reveal God's presence in the world and delights in exploring issues of call, spirituality, and culture from an Ignatian perspective through retreat facilitation and speaking engagements.
Since joining the Sisters of Saint Joseph in 2011, Sister Colleen has served as a college campus minister, community organizer, and was a member of the founding ministry team at the Sisters of St. Joseph Neighborhood Center in Camden, NJ. Originally from New Jersey, she adores her two nephews (ages 8 and 11) and believes that each one of us (no matter our age) is called to wander in wonder as we are drawn into relationship with God and others.