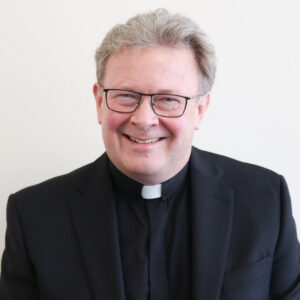 My dear friends in Christ,
I hope that you are enjoying these last beautiful weeks of summer! It seems hard to believe that it has now been twelve weeks since the accident that upended my life – and by extension, life here at the Collaborative.
I am progressing well in my physical therapy, and am so happy to be back in my home environment. I am now able to walk short distances with a forearm crutch – a big step forward from wheelchairs and walkers! As I continue to get stronger you may see me walking about the property or around town as part of my therapy and healing process. After so many weeks confined to hospitals, rehabilitation centers, and then the rectory, I am still getting used to being able to go outside – but I am thoroughly enjoying it!
The other part of my recovery is working through the invisible effects that impact anyone who has been through a traumatic, life-threatening accident. This process is much less visible, but no less critical to my full recovery and eventual return to ministry and to our Collaborative. Your prayers and support continue to sustain me through this most challenging period in my life, and I am so grateful for the grace and patience you have extended to me, and to our wonderful staff, through this time.
As I've said before, words cannot begin to express my profound gratitude to all of you. Please know that you are always in my prayers, and I am so thankful to be in yours.
Much love and gratitude –
Fr. Jim
August 22: A Message from Fr. Jim!