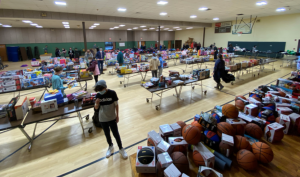 Thank you for so generously giving and volunteering to brighten Christmas for the 342 boys and girls chosen as beneficiaries of this year's Spirit of Sharing, Lawrence, program. Although many of the parents of these children, often first-generation, work two to three jobs, they cannot afford to meet rent, utility, grocery and school-related expenses and also provide Christmas gifts to their sons and daughters. This year's effort, a hybrid of online and in-person giving of items and funds, was challenging in light of the pandemic, but yielded an abundance of presents and good will. We believe this was the most robust year of giving since Spirit of Sharing's beginnings at the turn of the millennium.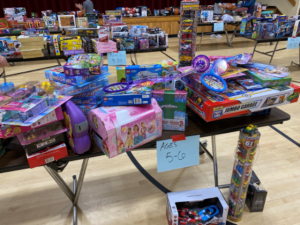 In the wee hours of the morning of the Saturday before Christmas, about 45 volunteers, including many from our parish, made our way up to the Parish Center of Saint Patrick Parish, Lawrence. After an opening prayer offered by Father Paul O'Brien, Pastor, we quickly set to work unpacking and organizing a cheerful array of toys, games, sporting equipment and jackets and other warm clothing for infants through young teens. A wonderful balance of clothing and several large and small gifts was compiled for each child according to his or her gender, age and size. Beginning at noon, grateful mothers and fathers arrived to pick up the gifts, many with tears in their eyes.
Many thanks to Father Jim for his caring support of this year's effort; to the Cardillo Family, for volunteering and communicating with parents, in Spanish or English, with such patience and sensitivity on the distribution day; to the Jacobs, Kapples, Leonard-Rahill, Miller, and Morgan Families, for your excellent organizational efforts; and to each and every one of you who sacrificed time and treasure to support this year's Spirit of Sharing program.
Thank You from "Spirit of Sharing" for St. Patrick's Parish in Lawrence