"At difficult moments in the Church's life, the pursuit of holiness becomes even more urgent. And holiness is not a question of age; it is a matter of living in the Holy Spirit, just as Kateri Tekakwitha did here in America and so many other young people have done." – St. John Paul II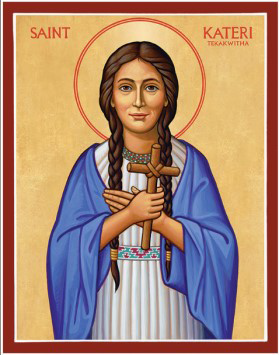 Saint Kateri spent most of her young life in upstate New York near Auriesville. Saint Kateri's father was a Mohawk Chief and her mother was a Catholic Algonquin. When Kateri was about 4 years old, her village was ravaged by a small-pox epidemic which took the lives of most of her family and left her disfigured. She was adopted by two aunts and an uncle who, like her father, was a Mohawk Chief.
Inspired by Jesuit missionaries, Kateri was baptized at the age of 20. Her name, Kateri, is the Mohawk form of Catherine, which she took from Saint Catherine of Siena. She taught young children in her village about the joy of helping the poor and sick. After refusing to be married or renounce her Catholic faith, she escaped to Canada.
Saint Kateri was canonized on October 21, 2012 as the first Native American Saint. It has been said that Saint Kateri is a bridge of healing and reconciliation for our contemporary world and our Church. She was a prophet in her time in promoting Gospel values. She was named by Pope John Paul II as a patroness of World Youth Day in 2002.
Saint Kateri Prayer
O Saint Kateri, Lily of the Mohawks,
Your love for Jesus, so strong,
so steadfast, grant that
we may become like you.
Your short and painful life showed us
your strength and humility.
Grant that we may become forever
humble like you.
Like the bright and shining stars at night,
we pray that your light may forever shine down
upon us, giving light,
hope, peacefulness and serenity
in our darkest moments.
Fill our hearts, Saint Kateri Tekakwitha
with your same love for Jesus
and grant us your strength and courage
to become one like you in Heaven.
Amen.
Prayer by: Harold Caldwell