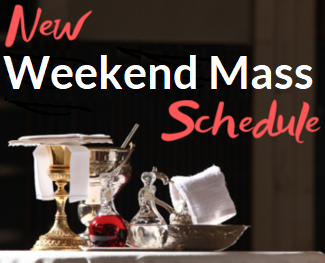 Over the past 17 months, we have all experienced unprecedented levels of disruption in almost every aspect of our lives. We've had to learn to live with uncertainty and to adapt to what seems like constantly changing routines.
The same has been true here at the Collaborative. Since public Masses were suspended in March of 2020, we've gone from celebrating Mass together "virtually", to celebrating Mass outside in everything from 90 degree heat to snow on the ground, to finally being back together inside our beautiful churches. We've had to adjust the number and location of our Masses numerous times to respond to changing conditions, which is not easy for anyone, and you have adapted to these changes with charity and grace.
Our current Summer Mass Schedule is in effect through Sunday, September 5 (Labor Day weekend.) As we look to the fall, we are mindful that the pandemic is not completely behind us and that uncertainty remains. At the same time, thanks to the formidable work of scientists and health care workers (not to mention our own vigilance!), we can begin to plan more concretely for the months ahead, and to bring back many of the things that provide a richer Mass experience for our community. We have developed a weekend Mass schedule for the upcoming fall through spring that:
Provides opportunities for Mass at the same or similar times as in the past.
Allows for full (but not crowded!) congregations.
Eliminates simultaneous Masses, making the schedule manageable with two or three celebrants.
Provides an equal number of weekend Masses at each parish over the course of the schedule.
Includes a new and exciting Collaborative Sunday 9am Family Mass initiative.
Inspired by the Spirit-filled sense of vibrancy and joy at the Sunday 5pm Youth Mass and the way it has reinvigorated our Confirmation and Youth Ministry programs, we are excited to launch a new Collaborative Sunday 9am Family Mass – a family-centered liturgy with our younger children central to and actively involved in all aspects of the Mass. This Mass will rotate between St. John the Evangelist Church and St. Paul Church on the same schedule as the Sunday 5pm Youth Mass, and will serve as the centerpiece of our Religious Education program for children in Grades 1-5. Look for more details in the coming weeks about this exciting new initiative!
As you can see in the schedule below, there are two other important changes:
We will now celebrate a single 7:30am Sunday Mass together in the Collaborative. This Mass will be celebrated at St. John the Evangelist Church from September through December, and at St. Paul Church from January until the Summer Mass schedule begins in late May/early June.
We have adjusted the timing of the late morning Masses so that they are not simultaneous, allowing a single priest to be able to celebrant both Masses in an emergency.
(you can click the image below to view or print a larger version of the schedule)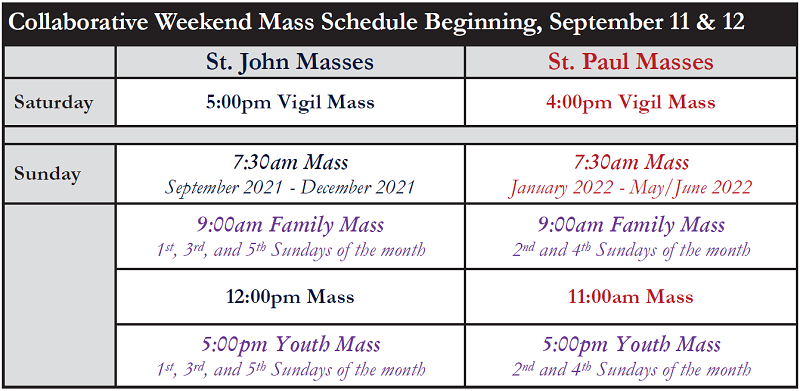 Our Weekday Mass Schedule will remain the same:
Monday – Wednesday – Friday: 9:00am Mass at St. Paul / Tuesday – Thursday: 7:00am Mass at St. John
As always, you are encouraged to attend the Masses within the Collaborative that are most meaningful and convenient for you, while still supporting your home parish. Offertory envelopes and checks placed in the collection will be returned to the designated parish. (Envelopes for both parishes will be available at the back of the churches so you can direct cash donations as well.)
Now would be a great time to consider online giving! Giving online, using either online bill pay through your bank or your parish's online giving program, makes donating to your home parish simple and easy, regardless of where you are or the time of year. This in turn provides the parishes with more consistent and stable contributions over time, which is now more important than ever.
New Collaborative Weekend Mass Schedule Begins the Weekend of September 11-12