On entering the tomb they saw a young man sitting on the right side, clothed in a white robe, and they were utterly amazed. He said to them, "Do not be amazed! You seek Jesus of Nazareth, the crucified.
He has been raised; he is not here. Behold, the place where they laid him. (Mark 1 6: 5-6)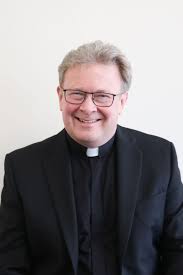 My dear friends in Christ,
Jesus' disciples were feeling utterly destitute. How would they go on without him? In Mark's account, Mary Magdalene, Mary the mother of James, and Salome had been there as their beloved Jesus was crucified. These same women made their way to the tomb early in the morning on the third day. As the approached the tomb, they saw that the stone had been rolled back. What could this mean? They had come only to be near his body. They had seen him die an anguished death. Could the angel's words be true? Could they dare to hope?
This has been a year like none other we can remember. I distinctly remember the sadness and emptiness I felt during Holy Week last year as our churches remained shuttered. One of the most moving sights from that time was seeing people pray outside of the locked church, sometimes kneeling in front of the door. I thought of the empty tomb. Like the women at Jesus' tomb, they prayed with pain and longing. But there was a glimmer of hope. Even while enduring the cross, the light of Christ's resurrection was already visible.
There are many things troubling our hearts this Easter. We are weary of the isolation that the pandemic has forced upon us and grieve the terrible suffering it has brought to so many. The sin of racism is all too pervasive in our society as are violence and hatred. And yet we are not without hope. Jesus is the light come into the world and calls each of us to be bearers of that light.
The isolation of this past year has made us realize how important we are to each other. In these troubled times, may our community of faith be a source of strength, peace and joy. As we look toward an uncertain future, may we remember that we never walk life's journey alone. He is with us.
He is risen. Alleluia!
Yours in our Risen Lord,
Fr. Jim
He is Risen! A Message from Fr. Jim on Easter Sunday